In the Mountains on a Summer Day, by Li Bai (trans. Arthur Waley, 1919).
Gently I stir a white feather fan,
With open shirt sitting in a green wood.
I take off my cap and hang it on a jutting stone;
A wind from the pine-trees trickles on my bare head.
Here are some one-night and multi-night stays at the end of August:
Holds for the retreat running 8/30-9/3 will be released on 8/23
Creekside housing: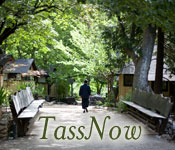 8/21 in Stone 3
8/22 in Pine 1
8/26 in Stone 2
8/28 in Cabin 15
8/29 in Pine 2
Mountain Path housing:
8/29 in 3A
8/30 – 9/3 (four nights) in yurt 1
Read more