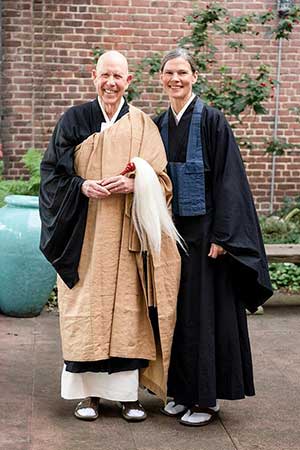 Sangha News speaks with Nancy Petrin (Horin Raika, Dharma Forest/ Bringing Harmony), recently appointed as tanto (head of practice) at Beginner's Mind Temple/City Center.
Sangha News: Hi Nancy. Thank you for agreeing to this interview and congratulations on your new position.
Nancy: You're welcome. And thank you.
SN: Before we go into more personal territory, let me ask you a general question. The tanto position is defined as the head of practice for a temple. But what does being tanto mean to you?
N: Before I accepted the position I asked to see a job description because although I had known many tantos I didn't know exactly what the job would entail. The first job of the tanto is "keeper of the forms"––the forms of the zendo and of ceremonial practice. I loved reading that because I love our forms and was drawn to practice largely because of them.
The second task is to "bring everyone along together." This involves inviting speakers and scheduling classes and doing my best to include everyone in the practice––teachers and residents and non-residential practitioners. And that is what I really want to do, to find ways to support people as individuals and help them show up for practice as themselves, both here and in the world.
Read more