Take a break from your daily hustle and bustle, and avoid the weekend crowd — unplug and relax with us during the week.
Private housing:
Yurt 1, Cabin 3A and Cabin 14A, and Cabin 19 are available for 4-nts, beginning July 10th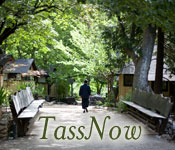 Dorm housing:
Women's Dorm, 2 beds, 10-nts, beginning July 6th
Men's Dorm, 2 beds, 14-nts, beginning July 6th
For questions or to reserve your room, please contact Tassajara Reservations by phone, 888-743-9362, or email.
NOTE: TassNow room availability updates refer only to last minute / near future availability at Tassajara. These updates don't necessarily mean that other dates aren't available. For all inquiries about availability and reservations at Tassajara, please contact Tassajara, as indicated above.