Miracles can come in small doses of BIG MAGIC – come get a few sips of the wilderness and see!
There are amazing 3-night stays in the next few days:
Creekside housing: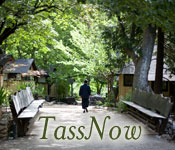 6/21 – Cabin 15
Mountain Path housing:
6/21 – Cabin 3A
6/21 – Yurt 2

Redwood Cabin housing:
6/21 – Cabin 5 (tatami)
Sycamore Cabin housing:
6/21 – Men's dorm (2 beds available)
For questions or to reserve your room, please contact Tassajara Reservations by phone, 888-743-9362, or email.
NOTE: TassNow room availability updates refer only to last minute / near future availability at Tassajara. These updates don't necessarily mean that other dates aren't available. For all inquiries about availability and reservations at Tassajara, please contact Tassajara, as indicated above.