Right now there are amazing opportunities for long, multi-night stays — we are amazed! You should be, too!
Private housing:
Stone 3, 9-nts, beginning June 10th
Cabin 20, 3-nts, beginning June 20th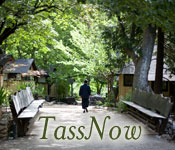 Dorm housing:
Women's Dorm, 1 bed, 3-nts, beginning June 12th
Men's Dorm, 2 beds, 11-nts, beginning June 12th
Shared housing:
Yurt 1, 1 bed, 3-nts, beginning June 15th (woman-only)
Yurt 3, 1 bed, 7-nts, beginning June 17th (man-only)
Cabin 13, 1 bed, 5-nts, beginning June 18th (woman- only)
These are going to disappear quickly — don't delay!
For questions or to reserve your room, please contact Tassajara Reservations by phone, 888-743-9362, or email.
NOTE: TassNow room availability updates refer only to last minute / near future availability at Tassajara. These updates don't necessarily mean that other dates aren't available. For all inquiries about availability and reservations at Tassajara, please contact Tassajara, as indicated above.