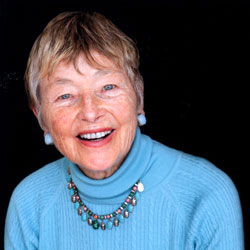 Let me go back to the very beginning before Green Gulch Farm was established. When the Golden Gate National Recreation Area was finalized, George Wheelwright made land available to San Francisco Zen Center. Some of the members of the Zen community were looking over the ranch houses on the property. I visited Green Gulch because I had started an organization called Enterprise for Youth, for high school students, and I was looking for a place in Marin for the students to spend a summer in the country. 
I saw these black-robed Zen people, the way they moved, just their way of their being, and I felt an instant connection. This was in the 1970s. I'd been a very loose Episcopalian, not really believing in it. But this seemed to be so nourishing … In 1982 I decided that I would become a member of the San Francisco Zen Center. Spiritually it fit like a glove over my hand and it still does. 
I would get up in the morning to meditate half an hour before I went off to work. My husband wasn't averse to it but he could never spit out the word "meditation" — he would call it "exercises." As in, "Are you going to do your exercises?" I meditated faithfully in the mornings and evenings. That carried me for many years.