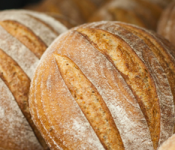 Article by Kogan Sheldon, Program Assistant at San Francisco Zen Center
Photos by Margo Moritz

Mick and his assistant, Mary, start the day in the Green Gulch Bread Bakery at 4 a.m. on a Thursday. By 10:00 a.m., they have full racks of new loaves. By 10:40 a.m. most have disappeared–put away or distributed to the community. Mick and Mary are still at work, cleaning up. "Thirty per cent of this work is housekeeping," Mick says cheerfully. Later, at 1 p.m., generous with both his time and his bread, he sits down with me for an interview.