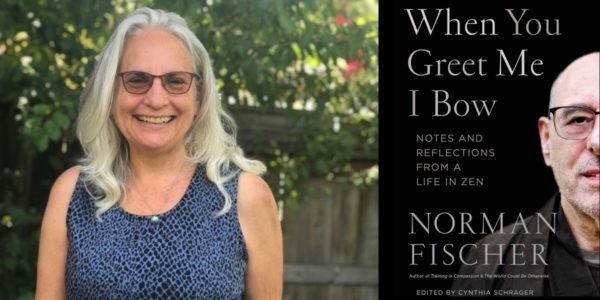 By Tova Green
Cynthia Schrager is the editor of Norman Fischer's new book, When You Greet Me I Bow: Notes and Reflections from a Life in Zen. A member of Everyday Zen, Cynthia has been a student of Norman's since 2010.
When Norman was encouraged by Melvin McCleod, editor of Shambhala Sun and BuddhaDharma, to consider assembling a collection of his previously published essays, Norman was interested and knew he would need help. In Summer 2016 he invited Cynthia to work on the project.
Cynthia began with a list of Buddhist journals which, along with Shambhala Sun and BuddhaDharma, also included Tricycle, Inquiring Mind, and the Buddhist Peace Fellowship's Turning Wheel. She began by tracking down every article Norman had written, creating a spreadsheet as she went along. In the end there were 75 articles and essays. "Norman was quite surprised at how many there were," Cynthia noted. Only half of what she discovered is in the book.
Cynthia's second task as editor was to develop a structure for the book. She looked for "the themes that kept coming forward." From the beginning, she could see that Relationship (Notes on the Joy and Catastrophe of Relationship) and Difference and Dharma (Notes on Social Engagement) would hold together as two of the four sections of the book. The sections on Form Is Emptiness (Notes on Thinking, Writing and Emptiness) and East/West (Notes on Cultural Encounter) followed.
In response to the Shambhala editor's request for some new writing from Norman, Cynthia thought of asking Norman to write notes that would precede each section and tie together the essays. As some were written as long as thirty years ago; this gave Norman an opportunity to comment on how his views have changed over the years. Read more