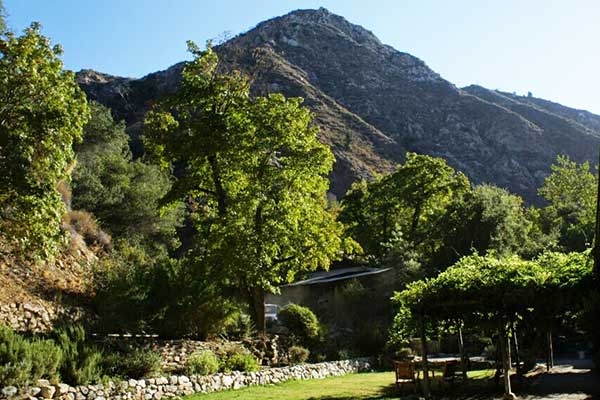 The monks at Tassajara have written a letter to the boundless sangha: friends, supporters, guests, former residents, fellow practitioners, all sentient beings. The letter will be published in four parts over the next several days. (See Part I, III, IV, CODA)

PART II: What I Want You To Know Is…
Most of us had other plans for after April 5. Returning to the marketplace, international travel, moving to Green Gulch or City Center. But this global example of impermanence upended so many plans that many of the practice period participants are still at Tassajara. 
Two months of regular practice period had already wiped away any cliques, assumptions about each other or insularity we'd brought with us. Adapting and reacting to a physically separated, completely unpredictable new reality has supersized our tenderness, gentleness and love for each other.
Now, many of us have taken on new roles and tasks as we keep Tassajara primed for a guest season that is indefinitely in the future. We're crawling under the kitchen to rework Tassajara's sewage system, braving tangles of poison oak to clear dead brush, delivering meals and encouraging notes to those in full quarantine, nurturing the plants and discouraging the rodents.
Volunteer groups stepped forward to synthesize CDC recommendations, state and county mandates and sort out how we could implement safe physical distancing within the intensely communal space of Tassajara. Five people are sewing rakusus for jukkai and two are sewing okesas for ordination.
And when we meet on the path we bow deeply, giving ourselves completely to each other, despite six feet of separation
What I want you to know is…
"The world is not here to make you happy. It is here to awaken you." – Eckhart Tolle
What I want you to know is…
Together we can meet fear with equanimity, scarcity with generosity, division with awareness of our interbeing.
Together we can embody skillful and courageous action, creativity and compassion in how we meet the challenging circumstances facing us — facing this planet .
It's time for us to be inspired and inspire others.
What I want you to know is…
That everyone now knows we can radically transform society practically overnight.
What I want you to know is…
To quote a pastor from his sermon: "An acorn looks nothing like a mighty oak tree but it is only when we cherish the acorn that it can become great."
The acorn is "This is difficult." "This is impossible." I think when we practice in the face of impossibility, adversity, pain, discomfort, we shed all the superficial coverings, motivations, desires and we really know our true spirit and our true desire for living, which may be humble but it is unbowed and it is real.
What I want you to know is…
Watching Netflix and watching the mind are not that different. Both are mesmerizing. There are more possibilities within mind watching.
What I want you to know is…
If dependent co-arising, then what happens to us when the 'co' is replaced by corona consequences?
What I want you to know is…
That every cloud has a silver lining. As the dark clouds of Covid-19 hover over the entire planet, like the silver in mother of pearl, the corona virus turns into "dharma virus." No wars, no bombs, no rushing, no pushing — slowly, slowly the sky is clear. The stars are shining bright. The dharma virus is an "anti virus" to all of humankind.
What I want you to know about is the generosity and sincerity of sangha.
Students here who care deeply about the suffering in the world.
Students sewing masks to donate to local hospitals.
Students offering to donate their stipends, savings, healthcare and resources for food and building supplies.
Students willing to work hard to take care of these temples.
Students dedicating their lives to the practice of buddha dharma.
What I want you to know is…
There is something constant, something that's always changing, directing or indirectly affecting all things for all time. It's called now.
When will shelter in place be over? I can't wait til it's over? Then things will be better. But now is all we really have. Even when this is over and I can go see my family I will still be left wanting something in the future.
Maybe I'll be bored, thinking of surfing. But what if I could be at ease and happy with this moment? What if I wasn't so willing to trade this moment, this "now" for something else. Might all my "nows" — the only thing we ever have — be all the better for it?
What I want you to know is…
In this moment in time, under circumstances we've never before seen, how do we meet this moment?
How does practice meet this moment?
How do we let the practice that has been cultivating in our minds and hearts come alive in the face of global crisis?
Can we be open to letting it take a form we've never seen before?
Can we let ourselves and our forms be shaped by practice as it arises spontaneously and truthfully through us to meet this moment?
Can we be creative? Can we let the silent child in ourselves speak? Sing? Can we be deeply discerning and actually let go of what we think we know and truly enter the unknown — even as it's sometimes uncomfortable or inconvenient?
Can we be open to voices we hadn't heard before, ideas we hadn't before considered, ways of doing things we haven't yet tried?
If our systems collapse, what is truly most important?
What would be worth standing up for, fighting for, following our heart for?
What would it look like to move about the world and not have to see or feel the impacts of our actions on ourselves, other beings and this planet?
What is it to choose, to commit to opening our eyes, minds and hearts to the impacts of our actions on ourselves, our families, our friends, our neighborhood, as well as all of the humans, animals, plants and beings whose lives we don't see but are touched by us? Can we love life so much as to be alive to all of this?
How is practice calling us to wake up?
What is at stake if we don't wake up?
How are we meeting this moment?
Words submitted by Gurmeen Aneja, John Anklow, K., Tim Ream, Jordan Gardner, Eilis Ward, Krista De Castella, Nobuko Hori, Bapu Vaitla, Dan Gudgel, Zuzu Myers, S. H., Brent Haas and other Tassajara sangha members who wish to remain anonymous. Photo by Erin Scott.