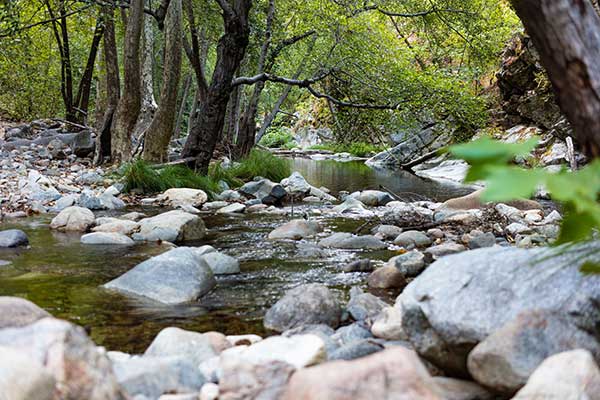 The monks at Tassajara have written a letter to the boundless sangha: friends, supporters, guests, former residents, fellow practitioners, all sentient beings. The letter will be published in four parts over the next several days. It is inspired by the prompt "What I Want You to Know" which was given to the sangha by Ryushin Paul Haller, who led the Winter Practice Period and is remaining at Tassajara while the community shelters in place.
PART I: What I Want You To Know Is…
What I want you to know is…
We are here, living together, taking care of this land, taking care of this temple, taking care of each other while practicing the Buddha Way. The spirits of the place are happy to have ceremony performed with them and for them. And, best of all, wherever you are right now, you can also make it a temple, filled with compassion for all beings!
We were two-thirds of the way into the winter practice period at Tassajara when Covid-19 went from something outside that we were getting reports about to something we needed to have our own response to. News had been filtering in — more and stronger recommendations about hand washing, overseas news, and, finally, cancelations and closures in the U.S. But most of us hadn't been online or read a newspaper in two months. We were deeply enveloped in the 105th Tassajara ango, gearing up for our third seven-day sesshin and beginning to think about the summer guest season.
Instead, the forms of practice and rhythms of life in the valley changed overnight. We stopped eating oryoki meals, the schedule shifted to give us more immune-boosting sleep, we were given expanded communication access and time to check in with family and friends. Through community meetings and conversations after meals we heard each other's concerns and ideas and learned about and helped shape the community response.
Should I stay at Tassajara? Should I go back into the world to help somehow? But most of the world isn't even out in the world right now. Is practicing in seclusion enough? How can I activate this practice and share it with the wider world? Should I make some masks? Well, it can't hurt to make some masks.
Two weeks before April 5, the official end date of the practice period, we had a council-style ceremony to mark suspension of traditional forms and embrace the unpredictable future. We gathered in the retreat hall, spaced six feet apart like nodes in a web, and each spoke from the heart about our time at Tassajara and with this sangha. Eight weeks of practice period had already knit us closely together, but we were all surprised by the beautiful, melancholy sweetness that poured out of us that night.
And so, knowing what treasures we held in our hearts as he was preparing to give the first dharma talk ever broadcast from Tassajara, Ryushin Paul Haller asked the sangha to contribute their voices. Slips of paper were set out in the dining room and we had a few hours to complete, in our own ways, the sentence "What I want you to know is…"
What I want you to know is…
This is enough. You are enough. You're more than I ever deserved.
What I want you to know is…
That you have everything.
What I want you to know is…
Somewhere, at some point in time, I have loved you, and still do.
What I want you to know is…
We will all be O.K.
What I want you to know is…
Just like you, my life is precious and worthy of love. May we love each other exactly as we are.
What I want you to know is…
I am listening to what wants to be known.
What I want you to know is…
I am committing my life to awakening.
What I want you to know is…
The raft that takes me to the other shore isn't a raft — it's a ship. Friendship.
What I want you to know is…
Spiritual friendship is the whole of the holy life.
What I want you to know is…
That I always need your help.
What I want you to know is…
All the things that are in my heart and body that I don't have words for.
What I want you to know is…
We are all in this together. Six feet apart and closer than ever.
What I want you to know:
We will miss this
If we do not love each other
We will remember this
Through the care of other
We will forget this
If we do not reach out and help each other.
Words submitted by Gurmeen Aneja, John Anklow, K., Tim Ream, Jordan Gardner, Eilis Ward, Krista De Castella, Nobuko Hori, Bapu Vaitla, Dan Gudgel, Zuzu Myers, S. H., Brent Haas and other Tassajara sangha members who wish to remain anonymous. Photo by Erin Scott.