Wendy Johnson answers a compelling call for clergy to gather in prayer and solidarity with the Standing Rock Water Protectors. 
Last week, following months of protesting by the Standing Rock Water Protectors in North Dakota, the US Army Corps of Engineers concluded that the Dakota Access Crude Oil Pipeline, which was slated to run under the Missouri River and cuts through sacred Sioux burial grounds, must take a new route.
At the source of this victory is an indigenous environmental movement of tremendous vitality and unity. For many in our Zen community, this victory comes as an inspiring lesson in grassroots movements for social justice and climate justice.
Wendy Johnson — organic gardener, author, and one of the founders of the organic Farm and Garden Program at Green Gulch Farm Zen Center — is one sangha member who heeded the call to join the peaceful protests at Standing Rock. Wendy describes her visit in the letter below.
---
Dear Dharma friends, teachers and family,
I write you a day after the annual celebration of Thanksgiving, always a holiday of mixed blessing as well as one of love and awareness, so necessary now in these post-election times.
A few weeks ago at the end of October during the sacred trio of days commemorating Samhain and All Hallows Eve, All Saints Day and All Souls Day or El Dia de los Muertos, I answered a compelling call for clergy to gather in prayer and solidarity with the Standing Rock Water Protectors at Oceti Sakowin Camp in rural North Dakota. There, at the confluence of the Cannonball and Missouri Rivers, the Dakota Access Pipeline is excavating a 1,170 mile long pipeline to carry crude Bakken Shale oil through the sacred burial grounds of the Sioux Nation and under the Missouri River, the longest river in North America. The Missouri is also the living source of drinking water for twelve million people.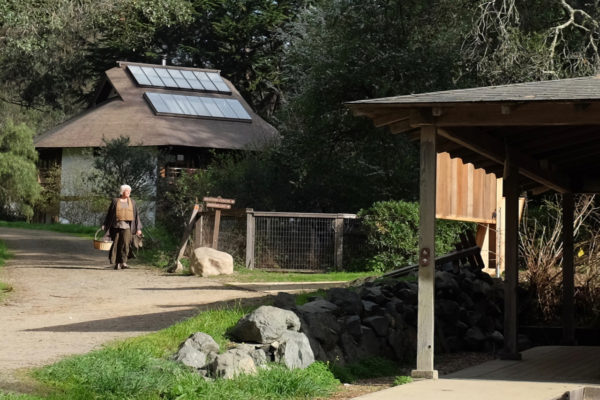 I responded to this call with every cell in my body. The proposed action was immediate, peaceful and clear: clergy were invited to gather at Standing Rock for a day of non-violent training and another full day of prayer and non-violent solidarity with the Water Protectors.
I immediately reached out for support from many of you, my strong and embodied blood and Dharma family, and from the extended indigenous community with whom I have been privileged to study Traditional Ecological Knowledge and to grow nourishing Native food crops for the last five years. With your love and support the next steps were easy: I packed my Zen robes, gathered together plenty of warm clothes and winter camping gear, and carried a full jar of Muir Beach honey and a long, formal braid of Oneo, or Seneca White corn grown at Indian Valley Organic farm, to be offered as a gift to Grandma's Kitchen, one of the five thriving kitchens in the heart of the Standing Rock Camp.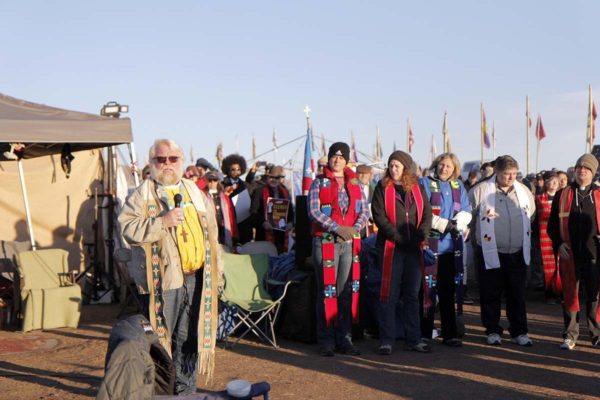 More than 500 members of the Interfaith community responded to the call for clergy to gather, a call issued by Father John Floberg who has served at Standing Rock as Episcopal Supervising Priest for the last 25 years. Father Floberg invited us to "gather and stand witness to Water Protectors' acts of compassion for God's Creation, and to the transformative power of God's love to make a Way out of no Way."
More than twenty faith traditions, mostly Christian, were represented. We gathered from the ten directions, sleeping on the floor of Father John's churches, at the local casino, and in the smoky bottom land of the Oceti Sakowin Camp.The assembly was diverse in age and ecumenical composition. We gathered to support the Water Protectors and to listen and learn. Throughout our non-violent vigil all training and public prayer was guided and led by indigenous clergy.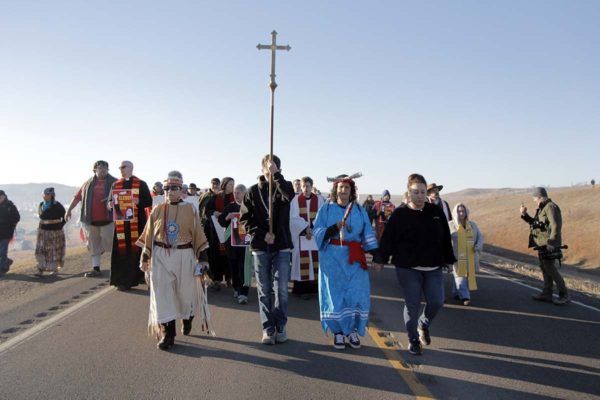 On November 3 at daybreak we journeyed to the Standing Rock main camp in full religious finery. We gathered for prayer at the central council fire of the camp. Christian clergy representing more than ten denominations stepped forward to repudiate the controversial Doctrine of Discovery, a 1493 Papal Bull granting European nations the absolute right to claim so-called New World indigenous lands for their own. Following formal statements of repudiation, copies of the Doctrine of Discovery were passed to indigenous elders from Standing Rock who burned the documents in large metal bowls and abalone shells to raucous acclaim. The flame of five hundred year old words was then covered with fresh sage from the high prairie to smudge and bless each member of the clergy as we passed in formal procession out to the front lines of the Dakota Access Pipeline.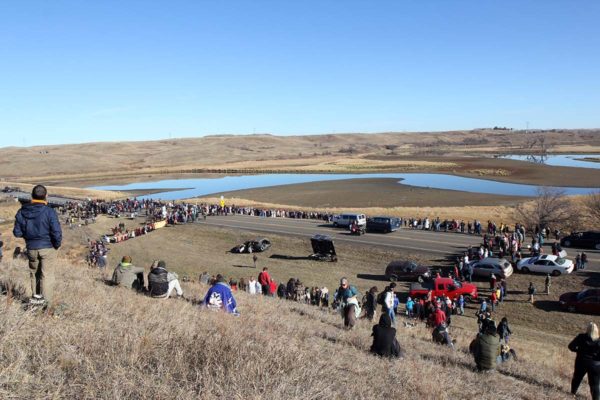 Hundreds of allies and relatives gathered on the hills above the Cannonball River to witness the procession and prayer vigil of the clergy. We chanted, sang, prayed, and stood in silent solidarity with indigenous hosts for more than three hours. Representatives of every faith tradition offered prayers and blessings from the back of a large flatbed truck as indigenous members of the Standing Rock community stood in peaceful attention guarding the front line of their ancestral lands in the intimidating presence of militarized guards in full riot gear.
Around noon some clergy exited our vigil to demonstrate on the courthouse steps of the capitol building in Bismark, North Dakota, calling on the Governor of the state to affirm his Christian roots and halt the pipeline. Other clergy engaged in non-violent protest, many of them arrested for their actions.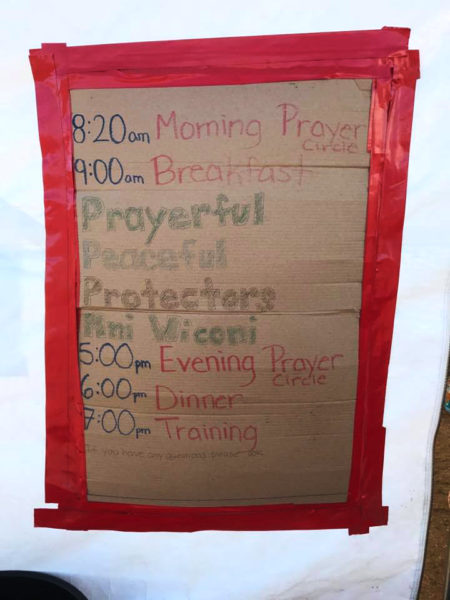 Those of us remaining at Standing Rock after the vigil walked out to the front lines to join the indigenous guardians on the live edge of the conflict. Some of these Water Protectors were practicing Christians. We prayed together there as the sun sank low in the Winter sky. Then many of us made our way into the main camp, walking down the long, dusty Avenue of Flags representing more than 200 Native nations. We volunteered until dark, helping however possible to support the camp.
Upon returning to Father Floberg's church I was particularly moved to learn that at the end of our day of prayer into action, two local police officers who had been deputized to guard the Dakota Access Pipeline respectfully turned in their badges, no longer willing to serve.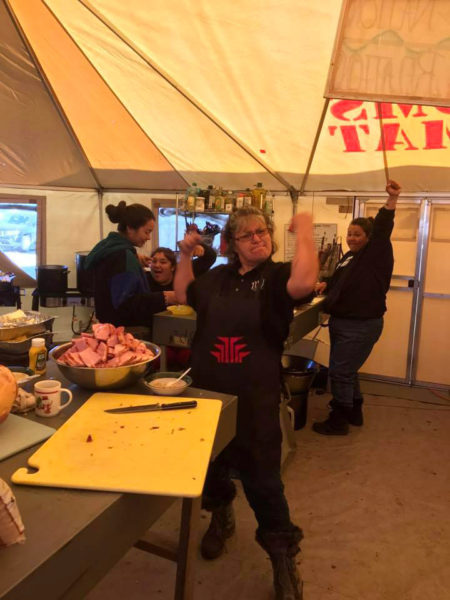 On my final day at Standing Rock I joined dawn prayers at the Oceti Sakowin council fire. The remainder of the day was spent volunteering in Grandma's kitchen, helping the beloved Piute Hoopa elder and her practicing assembly of dedicated Bodhisattvas sort and serve food to hundreds of hungry people throughout the day.
I apologize for not communicating with you sooner about the courageous efforts of the Water Protectors at Standing Rock. When I first came home I found it difficult to speak. Following the results of the US Presidential election and as tensions increase at Oceti Sakowin, I am grateful for our patch-robed, cloud-and-water-wanderer sangha, willing to live and die together, moment by moment. Fierce and grounded prayer turned toward engaged action is essential now to uncover a "Way out of no Way."
Thank you for your love and service and for the gift of practicing together in consequential times.
Yours, always and ever,
Wendy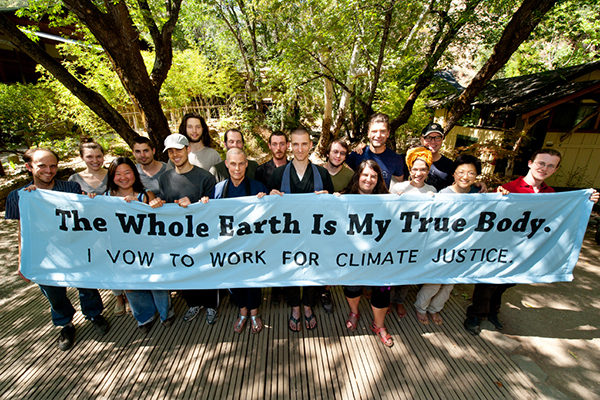 You can find current information about the Oceti Sakowin Camp that Wendy Johnson stayed at, and information on how to support the remaining protesters, at ocetisakowincamp.org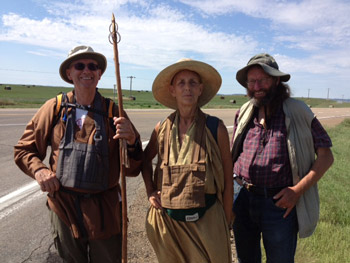 Wendy Johnson's actions echo those of fellow engaged sangha members, including the late Central Abbot Myōgen Steve Stücky and Zen priest Shodo Cedar Spring, who are pictured here in 2013 on the Compassionate Earth Walk, a spiritual walk to protest the Keystone Pipeline. In October 2013, we featured this story, which you can read here: Compassionate Earth Walk
San Francisco Zen Center remains deeply committed to protecting and restoring the fragile ecosystems we live in. Here is our statement of environmental commitment: Environmental Commitment
"Green Gulch Farm Zen Center. Temporarily Above Water."