Looking for a two-night stay – or longer? This might be your lucky June!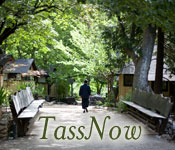 Precious pockets of time and space are still available in Tassajara this June. If you can get away, come join us in private accommodations:
Yurt 2 on 6/11
Cabin 3B is open for 4 nights starting 6/15 (wow!)
Cabin 10 is available 6/16 – 6/19
Courtyard 6 is magically open for 2 nights on 6/19
Pine 1 and Yurt 1 are available beginning 6/22
Cabin 5 is open for 3 nights on 6/23
Ask us about longer stays in Shared Housing and Dorms – there's lots of availability!
For questions or to reserve your room, please contact Tassajara Reservations by phone, 888-743-9362, or email tassreservations@sfzc.org.
— NOTE: TassNow room availability updates refer only to last-minute / near-future availability at Tassajara. These updates don't necessarily mean that other dates aren't available. For all inquiries about availability and reservations at Tassajara, please contact Tassajara, as indicated above.