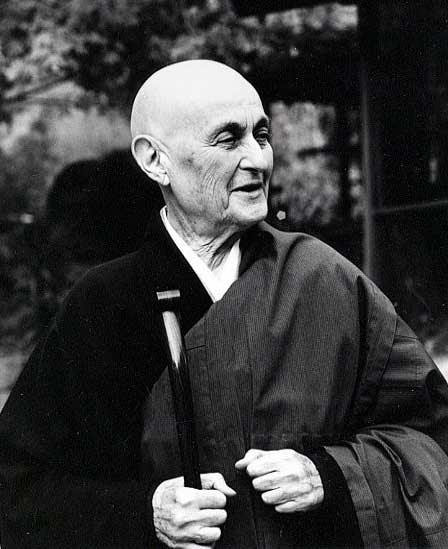 Shunbo Zenkei Blanche Hartman, Roshi, a widely respected Zen teacher, former Abbess, and Senior Dharma Teacher of San Francisco Zen Center, died on Friday, May 13, in San Francisco. She was one of the first women to lead a Zen training temple outside of Asia. Her Zen teaching focused on simplicity, curiosity, patience, love, and compassion, and she sought to make the Zen community open and accessible to everyone.
She was born Blanche Loeb Gelders in Birmingham, Alabama, in 1926, the daughter of Joseph and Esther Frank Gelders. Blanche spent her young childhood in Tuscaloosa, where her parents taught Physics and English at the University of Alabama. The Gelders family hosted a steady stream of students and professors who filled the household with vibrant conversation, much of which focused on the injustice and inequality displayed in Depression-era Alabama. When Blanche was in elementary school, her parents' increasingly vocal stances on political issues cost them their jobs at the university.
For the remainder of her childhood, Blanche's family lived primarily in the Birmingham area, where Joe Gelders became a full-time labor organizer and civil rights activist. These were lonely years for Blanche, who experienced exclusion and harassment from her peers because of her parents' work. Her family was threatened many times, and, when Blanche was ten years old, her father was severely beaten and nearly died. Though the Gelders family was Jewish, Blanche attended Catholic schools during the Depression, while the public schools were closed for lack of funds. She often spoke of one teacher, a nun, who provided a special comfort and inspiration to her at that time.
When Blanche was seventeen, her family moved to Davis, California, where her father was stationed during World War II. Blanche, who had been fascinated by mechanics since she was a small child, was delighted to work as an airplane mechanic for the Army. She continued to work on and appreciate vehicles for the rest of her life.
After the war, Blanche married Louis Hartman, with whom she had four children. The Hartmans lived in Berkeley, and continued to be involved with social justice and political organizing throughout the 1950s and 1960s. When Lou, a San Francisco radio personality, was blacklisted after refusing to cooperate with the House Unamerican Activities Committee, Blanche completed her chemistry degree at the University of California at Berkeley and supported the family as a chemist for the State of California.
In the late 1960s, Blanche was part of a group of mothers supporting student protests at San Francisco State University. As a chain of mothers locked arms at a demonstration, to shield the students from a force of riot police, Blanche met the eyes of one young police officer. She felt his fear, and all at once she experienced a strong feeling of identity with this young man on "the other side." Soon after, she discovered Zen practice.
Blanche and Lou practiced Zen first at Berkeley Zendo with Sojun Mel Weitsman Roshi, then at San Francisco Zen Center with Shunryu Suzuki Roshi, Dainin Katagiri Roshi, and Zentatsu Richard Baker Roshi. In 1972, they moved from Berkeley to Tassajara Zen Mountain Center, beginning a lifelong commitment to Zen practice, which led them to Green Gulch Farm and San Francisco Zen Center's City Center. Blanche was ordained by Zentatsu Roshi in 1977, receiving the name Shunbo Zenkei, "Spring Full Moon, Inconceivable Joy." She received dharma transmission from Sojun Roshi in 1988, and in 1996, she became the first woman to serve as Abbess of San Francisco Zen Center.
Blanche studied Nyoho-e, the practice of sewing Zen ceremonial robes, with Kasai Joshin Sensei, in the lineage of Sawaki Kodo Roshi. She taught this unique form of Zen practice to hundreds of students at Zen Center, and played an important role in establishing the practice in North America.
Blanche was a central and stabilizing figure at Zen Center for more than 40 years. She helped guide the organization through turbulent times, and her patient dedication to Zen practice inspired generations of students to persevere. Her teaching will continue through her many dharma heirs and students, who transmit her love and compassion every day at practice centers around the world, and through her recently published book, Seeds for a Boundless Life, edited by her student Zenju Earthlyn Manuel.
Blanche was preceded in death by her husband of 63 years, Lou Hartman, and her sister, Marge Frantz. She is survived by a large and loving extended family, including her four children, Joe Hartman, Earl Hartman, Trudy Briskin, and Mitzi Levine, and their spouses, as well as eight grandchildren, eight great-grandchildren, and her Zen students and sangha.
Rebecca Hartman Huenink