Dear Friends,
As we turn toward the fall of the year, enter into the practice periods at all three temples, and face the many brutal and senseless actions of our world that harm innocent beings, we once again take refuge in Buddhadharma to guide us in understanding how to act and serve from wisdom and compassion. All of us at SFZC offer condolences to the victims of the Oregon shooting and to everyone touched by that tragedy.
Of course, another tragedy that is ever present in our hearts is the climate emergency, which has brought and will continue to bring untold suffering to all beings through loss of crops, drought, sea level rise, intense weather and an unprecedented loss of species. The recent visit of Pope Francis to the USA, his address to the United Nations and his June 2015 encyclical on the environment, "On Care for Our Common Home," have again brought climate change and the climate emergency strongly into the foreground of moral consciousness for many people, not just people of faith. Such a compelling message by one of the world's most authoritative leaders has strengthened the already powerful voices that are speaking out and taking actions on behalf of our earth. One thing that we can celebrate is the recent decision of a major oil company to stop drilling in the Arctic.
SFZC continues to uphold the many ecological practices that have been developed from several years of stewarding the land we live on, caring for the water and energy resources, installing solar arrays, growing and supporting organic food production, and taking advantage of the many economies of scale that come with community life. Some of the guidelines we have adopted over the years are available on the SFZC website (see Green Practice).
As I wrote in Sangha News this spring, the SFZC Board has been actively studying how to invest our endowment in a way that upholds the responsibilities we feel both to steward and sustain our practice places, and to invest our money ethically.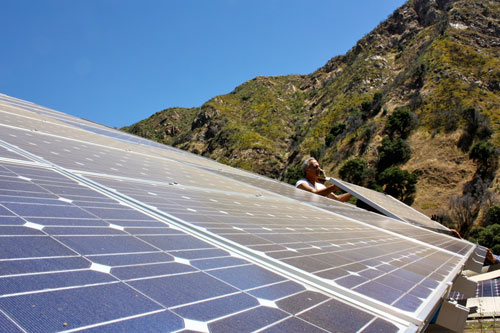 The Ecosattva group and many others at all three centers have been diligent in encouraging the board to take action regarding the investment of our new endowment. The board has requested that our investment committee, a group of dedicated and skilled volunteers, study and report back to the board on the effects of adding certain socially responsible filters to align our investments with our precepts.
This summer we hosted two community meetings, one at City Center and one at Green Gulch, to continue the discussion on these issues and hear more from the community. The Green Gulch meeting we hosted included SFZC abbatial leaders and officers, Green Gulch residents, members of Spirit Rock who are working on the same issues for their community, Peter Coyote of Vimala Sangha in Mill Valley, Rebecca Solnit (sangha member, author and environmental activist), Nancy Kamei and Craig Neyman (members of our investment committee), and Lloyd Kurtz and Blaine Townsend (who are sharing with us their comprehensive knowledge on social investment). We are truly fortunate to have such an experienced, thoughtful and principled advisory team.
We also have been hearing from our affiliate sanghas in the Branching Streams network about their thoughts and feelings on this important matter. Many well-informed and active community members and teachers have written to the board in strong support of SFZC divesting from fossil fuels, including Taigen Leighton of Ancient Dragon Zen Gate in Chicago, Ryumon Hilda Baldoquin of Two Streams Zen, Alan Senauke of Berkeley Zen Center and Clear View, and former abbot of SFZC Norman Fischer of Everyday Zen. The discussions have been passionate, educational and transformational.
This year a number of institutions—Stanford University, the California Academy of Sciences, California Retirement Funds (a bill has passed the California State Assembly and is yet to be signed by the governor)—have announced that they are divesting from coal or fossil fuels. "Divestment" in these instances means to rescind direct investment in coal or fossil fuel companies. In some cases, this policy only means that the company they invest in cannot derive more than 50% of its income from fossil fuels. At SFZC, our endowment is currently invested in index funds, which provide a broad investment with low operating costs. Therefore, one could say that we have already "divested" from fossil fuels in that we have never had any direct investment in fossil fuel companies to begin with, nor do we ever intend to. However, we would like to go beyond this to ensure that our indirect investments are not significantly supporting fossil fuel companies as well.
The investment committee, at the request of the board, is doing the careful work of researching what the impact on the endowment would be if SFZC were shifted into socially responsible funds, which exclude companies with significant (≥5%) income from the Carbon Tracker 200 (the companies with greatest carbon emissions), nuclear energy and industrial agriculture. The committee has also been asked to research the impact of excluding companies with significant (≥5%) revenues from firearms, tobacco and alcohol, and companies that are involved in major recent controversies concerning human rights, workplace discrimination, labor relations, poor environmental practices or employee safety controversies. We are so grateful to the investment committee for their diligent work on our behalf.
As we continue to look deeper into this issue, we cannot help but also study the interconnected nature of our life and our bodhisattva vows. In balancing the twin concerns and responsibilities of caring for the financial health of SFZC and for the health of the earth, both of which include the precept of non-harming, we know that the resolution we come to will be a policy grounded in our practice of wholesome and appropriate response.
Bowing,
Eijun Linda Cutts
Central Abbess
San Francisco Zen Center