Dear Friends,
With the help of so many benefactors and donors in the last few years, San Francisco Zen Center has, for the first time, been able to create an endowment. This fund will be a major help to sustain and support our beautiful practice places, teachers, students and programs. Along with the endowment comes the imperative to study and be clear about our commitment to ethical investing while responsibly stewarding this great gift to the sangha.
For the past several years, many students, members and friends of Zen Center have been engaged in a passionate discussion regarding the ethical investment of this endowment. These dialogues cannot be separated from the fact that, as the elders wrote to the board, "SFZC is a leading and highly visible Buddhist organization, and our policies, decisions and practices have the potential to positively impact other members of our sangha and society who are struggling with similar moral and ethical challenges."
There have been letters and petitions from Ecosattva groups at our three practice places (efforts stewarded by Hakusho Ostlund, Qayyum Johnson and so many others), discussions with the Abbots, Elders and the Board, as well as an active exchange of ideas and information among dharma friends. We invite you to join in the discussion on this issue that is of vital concern. On June 2 at City Center from 5 to 6:30 pm, and August 6 at Green Gulch from 7:30 to 9 pm, Abbot Ed Sattizahn and I will host an open meeting to discuss these heartfelt issues and concerns regarding our investment policies. Members of the board and investment committee will be present, as well as other sangha members who have worked to bring these issues to the fore and engaged with the board with perseverance.
At the last board meeting there was a directive from the Board to our Investment Committee—a highly skilled group of committed volunteers—to research the impact and effects on our endowment of adding various filters and prohibiting certain investments that are deemed not to be in alignment with our values and precepts. As we look at the issues, we see more and more the truth of our interconnectedness, the consequences of our actions, and the responsibility we have to invest our resources wisely and ethically.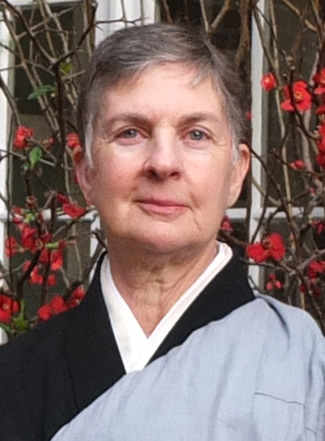 I hope to see you at one of these meetings.
Bowing,
Eijun Linda Cutts
Central Abbess
San Francisco Zen Center