SFZC Women Share the Spotlight Cast by The Hidden Lamp
A groundbreaking new book puts the spotlight on women in Buddhism, unearthing many teaching stories that were hidden for centuries. The Hidden Lamp: Stories from Twenty-Five Centuries of Awakened Women, edited by Zenshin Florence Caplow and Reigetsu Susan Moon, is a collection of one hundred koans and stories of Buddhist women from the time of the Buddha to the present day. Short, lively and personal, many of the commentaries presented in the book are written by women teachers in the lineage of Shunryu Suzuki Roshi, including SFZC teachers such as Zenkei Blanche Hartman, Eijun Linda Ruth Cutts, Leslie James, Shosan Victoria Austin, Furyu Nancy Schroeder and many others.
Read an insightful review of the book, presented for Sangha News by Catherine Gammon, a fiction writer, writing teacher and Soto Zen priest currently at Green Gulch Farm.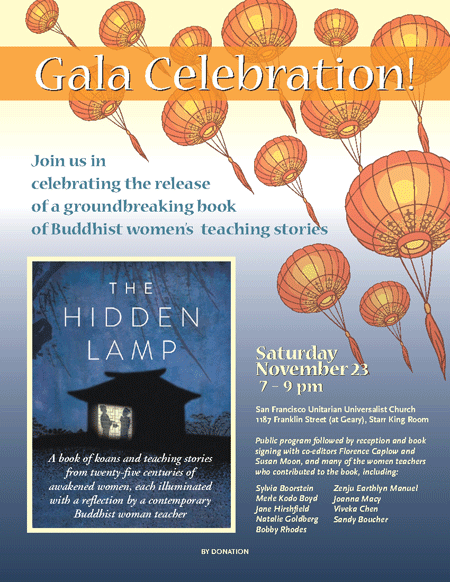 In addition, these upcoming events present opportunities to celebrate and unpack some of the riches of this collection:
Gala Celebration
Public program, by donation, followed by reception and book signing with the editors and several contributors
Saturday, November 23, 2013, 7 – 9 pm
San Francisco Unitarian Universalist Church
1187 Franklin St. (at Geary)
Awakening in a Female Form: Women in Zen Panel
A free public event with Zenshin Florence Caplow and Reigetsu Susan Moon and several contributors
Friday, January 10, 2014, 7:30 – 9 pm
City Center
Courage and Intimacy: Ancient Stories of Awakened Women and How They Matter in Our Lives
A workshop with Zenshin Florence Caplow and Reigetsu Susan Moon
Saturday, January 11, 2014, 1 – 4 pm
City Center