by Catherine Gammon
The new koan collection, The Hidden Lamp, edited by Zenshin Florence Caplow and Reigetsu Susan Moon, takes as its manifestly traditional starting point the collecting of one hundred Zen teaching stories. The radical difference is not simply that the stories feature women as students, adepts and masters, but that the commentaries and reflections paired with them are offered not by one living teacher, but by one hundred, all women, and from many lineages and Buddhist traditions.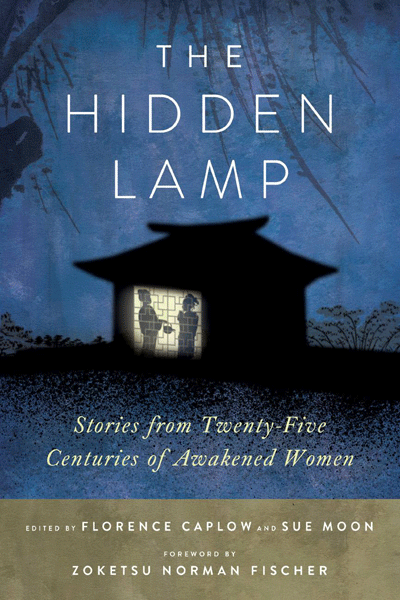 This diversity brings a palpable vitality to stories that include both the classic and the contemporary, and a single reflection can suddenly shift with startling effect from a traditional way of reading to a wake-up call grounded in engagement with the collective present, as for example when Pat Enkyo O'Hara turns from explication of a koan presenting a playful encounter between Iron Grindstone Liu and Master Guishan Lingyou, to ask,  "What does this koan teach us today? Is it not that New York melts the arctic ice; that karmic threads of colonialism have woven twenty-first century violence; that restitution across the globe rests in our hearts, here at home?"
In a similar spirit are moments like this from Susan Murphy:
In a life-world on the brink of crumbling in mass extinctions, while human forms of insanity are roundly certified as "business as usual," how will you actualize the cry of the rooster with this whole great body and mind of fields, mountains, and flowers?
And from Joanna Macy:
My attention, too, is so preoccupied with what we, collectively, are doing to our world…. My spiritual practice calls me to come to terms with the destruction we humans are causing. I wouldn't want an "enlightenment" that would keep me from knowing and feeling the ways our actions are unraveling the very web of life. I want to be present to the suffering that comes with "the spirit of the knife and the axe"—the spirit of bulldozer and chainsaw, of deep sea drilling and mountaintop removal, of factory farms and genetically modified seeds.
And from Natalie Goldberg:
All the meditating in the world doesn't stop a rape in the Congo. Some effort needs to be made; we must be willing to get our white clothes dirty. We don't need more wisdom poured into an empty vessel. We need to be willing to hear about horror, broken bones, economic collapse, betrayal.
It is tempting to go on, but these moments that bring timeless practice face to face with contemporary crisis are not the only treasures here.
The Hidden Lamp: Stories from Twenty-Five Centuries of Awakened Women
Edited by Zenshin Florence Caplow and Reigetsu Susan Moon
Foreword by Norman Fischer
Wisdom Publications
Paperback
440 pages, 6 x 9 inches
$18.95
ISBN 978086171659
Most Zen students are likely to be familiar with the expression "the bottom falls out of the bucket," but how many of us know its origin in the life, work, and enlightenment story of one particular woman? How many of us who chant a dedication to our women teachers that ends with the name Chiyono know who Chiyono was? No doubt such details are not new to every reader, but for me coming across them was one of the many delights of this book.
The story of Chiyono goes like this: In the midst of long and deep practice, on a full moon night, she fills her old bucket at the well. The bucket breaks and the moon's reflection falls away with the water. This is Chiyono's moment of awakening, not unlike the possibly more familiar stories of a monk awakening after years of study and practice when his broom sweeps a pebble to ping against bamboo, or another who awakens on seeing a peach tree blooming.
Chiyono's enlightenment poem expresses her understanding and gives us the well known image:
With this and that I tried to keep the bucket together,
and then the bottom fell out.
Where water does not collect,
the moon does not dwell.
In her reflection on this story, Merle Kodo Boyd offers a fresh take on the image itself:
As much as I may wish to appear competent at all times, I cannot immerse myself in Zen practice without a willingness to come apart. Sometimes it's appropriate to stop patching things back together. I have come to trust the true freedom of living where the moon does not dwell.
In her own commentary on the koan "The Old Woman's Relatives," Caplow captures the spirit of the whole collection when she writes:
But you must understand that it is the asking that matters, not the answer. Because every real asking, every real meeting comes from the place where the Buddha glimmers in the depths. In the asking is the answerer; in the answer is the asker. And in the meeting of the two, there are mountains, rivers, and the whole earth.
The Hidden Lamp is a large and spacious collection, rich with the voices and years of practice of these hundred living women and two and a half millennia of women forebears, known and unknown. I have sampled here only a few of them. For all their richness and diversity, these stories and reflections share the central wisdom expressed by Emila Heller:
Taking refuge in a community of practitioners for so many years gave me the gift of knowing that we are all suffering, and my faith is that there is the possibility of an end to suffering.
May it be so.
__________
Catherine Gammon is a fiction writer, writing teacher and Soto Zen priest (ordained by Tenshin Reb Anderson). In 2013 Catherine's novel Sorrow was published by Braddock Avenue Books. Her earlier novel Isabel Out of the Rain was published in 1991, and her shorter fiction has appeared in many literary journals. Before coming to residential Zen training, Catherine taught in the MFA program in creative writing at the University of Pittsburgh, and in recent years has offered Zen-based Writing as Wisdom Project retreats at various venues in the UK, and at Stillpoint Zen Community in Pittsburgh, Brooklyn Zen Center and Green Gulch Farm.
See upcoming events related to The Hidden Lamp.