This spring we said goodbye to the Tassajara gate that stood as an entryway to our mountain monastery for 40 years.  In this video, we captured part of the demolition of the old gate.
[iframe width="420″ height="315″ src="http://www.youtube.com/embed/bHFkIE-HWcs?rel=0″ frameborder="0″ allowfullscreen></iframe]
Building moves forward here at the site.
The major portion of the construction of the new Tassajara temple gate is complete. For the last 8 months a group of apprentices has been working with renowned Japanese joinery master Paul Discoe at his studio in Oakland designing and building the new formal entrance to Tassajara.
During the spring work period the group continued the preparation of the structure at the shop at Tassajara and then it was largely erected over a 4 day period. Two stone masons were also engaged in constructing the stone steps and base wall.
In the Fall work-period the gate will be completed with a fire proof thatched roof, doors, and a clay wall on each side of the structure.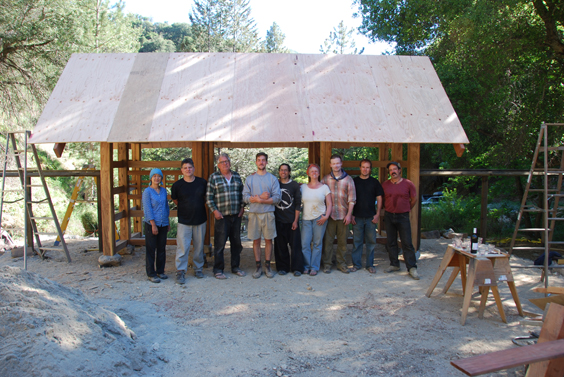 For more background, see our February article on the preparation for a new gate.
Article by Simon Moyes,
Photos by Simon Moyes and Antonio Pares.