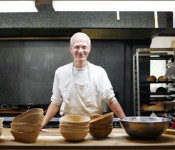 An Interview with Green Gulch Farm's Mick Sopko
Can you say a little about your history with SFZC as a bread baker?
I came to Zen Center in 1977 or so and I worked in the Tassajara Bread Bakery in San Francisco from 1980-1993. I worked all kinds of different positions; making bread, pastry, cakes, as production manager, manager of the retail store…Eventually, SFZC sold the bakery and I inquired at [City Center], where Blanche Hartman was tenzo [head of the kitchen]; how would it be if I came in to use the kitchen and produce bread for the community?