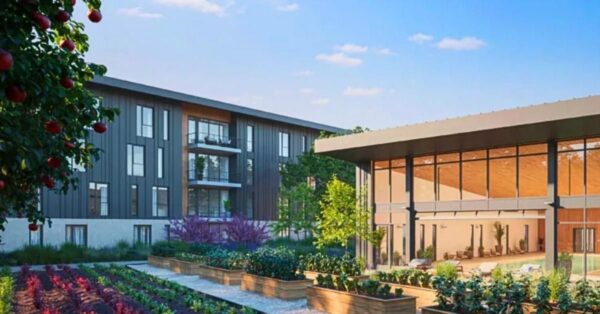 Note: As the first group of SFZC retirees prepares to move to Enso Village at the end of this year, we are re-running this article from SFZC's 2022 Impact Report.
---
Beginning in fall 2023 and continuing in four distinct waves over the next two years, twenty-seven San Francisco Zen Center elders will move to Enso Village, a one-of-a-kind senior living community in Healdsburg, CA, where they will be joined by approximately 320 other seniors. This article focuses on SFZC's role in founding the first Zen-inspired senior living community, how Buddhist principles will be integrated into life there, and how two SFZC elders—Susan O'Connell and Leslie James—are meeting the reality of leaving their homes for a new place. Their perspectives on the not-always-welcome nature of change provide a candid, unsentimental look at aging and letting go.
Early in SFZC history, its leaders invited young Zen teachers and students to live in its temples and be supported in retirement, yet many practical questions remained about how the practice centers could provide this support and still remain open to new students. Susan O'Connell, a Zen teacher with thirty years of meditation experience and a talent for raising private investment capital, knew that at various times in SFZC's institutional life it had offered Zen practice in a fresh, entrepreneurial way. Gourmet vegetarian fare at Greens Restaurant and compassionate end-of-life care at Zen Hospice represented two of SFZC's values-aligned programs that had succeeded in setting new standards in their fields. As Susan and community members grew closer to retirement age, she wondered: Was it time for SFZC to create a new model for senior living?
With SFZC support and a visionary grant from a donor, she and others began to explore and reimagine senior living for elders who had practiced meditation and mindfulness throughout their adult lives. What if practice wasn't sidelined as one aged, but instead was offered as an organizing principle for a community of senior residents of all backgrounds and beliefs? What if SFZC elders continued their Zen practice of turning toward their lives, instead of denying or distracting themselves from change?
What emerged from this inquiry is Enso Village, a collaboration between San Francisco Zen Center and Kendal, an experienced provider of communities, programs, and services founded on Quaker principles. Built on fifteen pastoral acres in Healdsburg, Enso Village includes a total of 221 independent living units, plus assisted living and memory care, all designed with a Zen-inspired orientation to aging that is reflected in the physical spaces, services, and activities offered. By centering aging as a phase of life consistent with self-realization, learning, giving, and growth, Enso Village is organized around opportunities to deepen mindful living. All Enso Village staff will receive training in contemplative care and how to companion others as they age. Residents will have the option (but not the obligation) to engage in many forms of contemplative practice, including meditation in the on-site zendo, weekly Dharma talks, and classes on a range of subjects.
For all of its Zen-inspired elements, moving to Enso Village will still represent a significant shift for many SFZC elders, some of whom have lived at the same practice center for twenty or more years. For many, the transition is filled with complexity: on the one hand, a necessary next step and opportunity to receive support as they age and, on the other, a source of grief as their relationship with their home and its human and nonhuman residents inevitably changes.
"It's bittersweet," Susan O'Connell says of her own transition. Having lived in her apartment at Beginner's Mind Temple for the better part of two decades, she's not looking forward to the process of downsizing, noting that a material thing can have in it a "whole history." Years ago during a period of intentional study of greed, she developed the habit of giving away a valued personal item every time she delivered a Dharma talk. It's a practice she's grateful for now as she approaches letting go of more.
Still, she's ready to make this change. Noting that it's getting harder for her to walk across the street to the zendo, she's looking forward to being in a place where many others may be meeting the experience of disability, and where she can more easily care for her body by swimming regularly. Most of all, she's happy to be moving to a place where all SFZC elders will be taken care of as they age, an outcome made possible through the unique collaboration with Kendal and the generosity of the SFZC sangha.
For Leslie James, the Abiding Teacher at Tassajara and a resident of Tassajara and Jamesburg for over thirty years, leaving her home for Enso Village brings up mixed feelings. Beneath the complexity, she says, is a baseline of gratitude for having a place to go where she and other SFZC elders will be cared for when they need it. "It's a problem, getting old!" she says with a laugh, noting that having a safety net, particularly one in a community that has similar values to her current one, is nothing short of amazing.