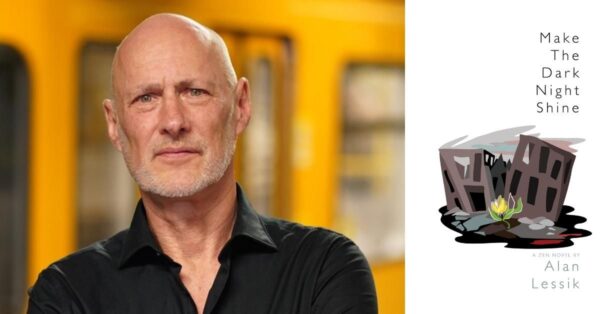 The book reading will be in the dining room at City Center/Beginners Mind Temple (300 Page Street at Laguna) on Friday, October 20, at 7:30 pm. Senior Dharma Teacher Ed Sattizahn will offer an introduction for Alan's reading.
Alan Lessik is a member of the Berlin Queer Writers Circle, a Zen practitioner, amateur figure skater, and LGBT activist. His debut novel The Troubleseeker (SFZC Online Store link) was short-listed for the Publishing Triangle's 2017 Ferro-Grumley Award for LGBTQ Fiction. With an interest in how novels preserve queer culture, he has been published on this and other topics by Lambda Literary, the Bay Area Reporter, and Advocate.
Alan received jukai in 2013 from Kikū Christina Lenherr at the San Francisco Zen Center and was an active member of SFZC's Queer Dharma group. For two years, he also served as a guest teacher at the SF LGBTQ Sangha. He sits daily with the Black Mountain Zen Center in Belfast and his writing on Zen topics can be found at his blog: alanlessik.com.
Alan will be reading from his second novel (which will be published soon by Rebel Satori Press), Make the Dark Night Shine. Inspired by his Aunt Nina Uchida's family story, the novel is a love letter from a father to the daughter he never met. Set in Constantinople, Paris, Japan, New York, and London, it features the father, a gay diplomat turned Zen priest. Since his introduction to Dogen's "Genjo Koan" by Rinso Ed Sattizahn, Alan has been fascinated by the images and poetry of the koan. This novel is his interpretation of it, set during the troubling times between the two world wars.