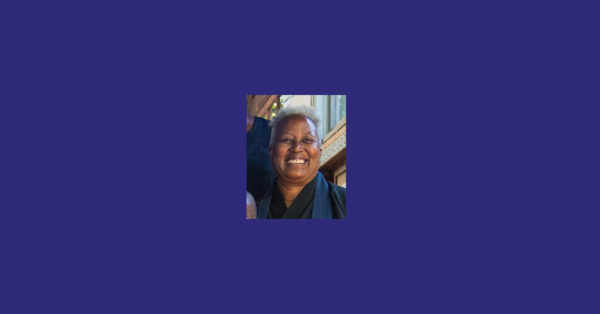 Simbwala Schultz
December 27, 1951 – November 21, 2022
Excerpt (with slight edits) from Obituary:
Simbwala Schultz assisted healing for many suffering from substance abuse, through the Harm Reduction Therapy Center in Oakland. From Harm Reduction Therapy she became an advocate for high-risk children of color in East Oakland and worked diligently on their behalf.
In her later years she turned to her love of drumming, writing and storytelling and produced a one woman play, with the assistance of Vicki Dello Joio, called The Beauty of the Not so Beautiful in which she tells her story of growing up as a black girl in Dallas during desegregation and the experience of becoming a black woman and claiming her sexuality as a lesbian. It was an ongoing project that provided much joy to herself and others. Excerpts of her storytelling can be viewed on YouTube.
She was a long-term practitioner of Soto Zen Buddhism and received her lay vows through the San Francisco Zen Center, was given the dharma name Zan Do (Mountain Way), Sho On (True Voice) and at the end of her life was given Lay Entrustment as a teacher of Zen Buddhism.
Simbwala Schultz is survived by her beloved companion Zenju Earthlyn Manuel. She will be missed by all who had the opportunity to know her loving spirit.