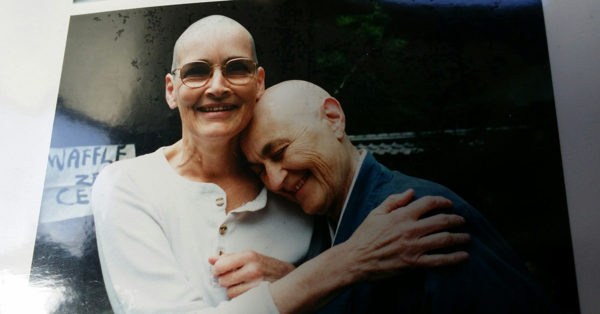 Cathleen Williams and Blanche Hartman in Japan, 1998. Photo by Cynthia Gair.
Cathleen Williams — June 22, 1941 – December 15, 2022
Cathleen Williams, Baizan Zenshin, Plum Mountain / Completely Genuine, was a Dharma-transmitted student of Shunbo Blanche Hartman. She was ordained at City Center on September 25, 1994. She was a resident for many years, and held a variety of positions, including Director of City Center. Cathleen visited Rinso-in, Shunryu Suzuki Roshi's home temple in Japan, with ten other practitioners for a month-long practice period led by Blanche in the spring of 1992 and again with a similar group, including Sojun Mel Weitsman, in 1998.
Cathleen was a psychiatric social worker before coming to San Francisco Zen Center. In recent years she and her long-term partner Carol Asante moved into assisted living in San Rafael. She is survived by Carol and an adult daughter, Gwen Williams.
A Memorial Service was held at City Center on Monday January 9. A more funeral-like memorial service will be held at Vallejo Zen Center on Sunday, January 22, at 11:30 a.m. It will also be available on Zoom by entering through the temple website home page at Vallejo Zen Center. Guiding teacher Mary Mocine, a long-time dharma friend of Cathleen, is hosting the service.
Tribute from Shinshu Roberts:
Cathleen Williams was a Dharma sister and a friend. She was wise and her practice was deeply grounded in both Zen and Vipassana. She was also a prodigious reader who could whiz through a novel in a few hours. Regrettably, I had lost contact with her the last few years as both of us had moved. I am sorry to hear of her death.
Tribute from Basya Petnick:
She was such a respectful and devoted student of Blanche. She set the bar high in student-teacher relations. She looked serious but had a quick laugh and could express delight.