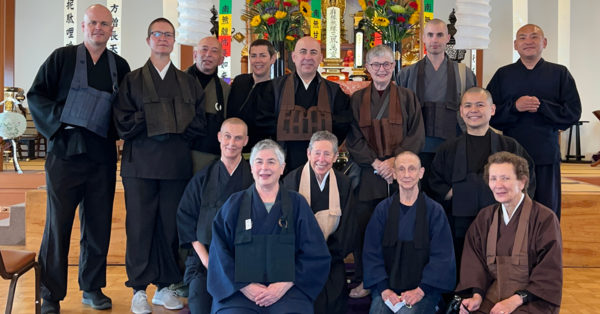 By Tova Green
There are about twenty priests who practice at City Center (both residents and those who live in the wider community) and have been meeting every two weeks for the last six years. These meetings focus on study, skill building, and getting to know and support one another.
Recently we have been exploring our connection to Japanese Zen, the heritage passed on through Shunryu Suzuki Roshi and several other Japanese teachers to our American teachers, to us. We had several questions: What are our connections with these Japanese roots and with Sokoji, the temple in Japantown that brought Suzuki Roshi to San Francisco in 1959? What is our relationship to the International Soto Shu (the Japan-based organization of Soto Zen priests)? What can we learn about early Buddhists who came to San Francisco from China and Japan, and those who came when immigration from Vietnam, Korea, Thailand, and Tibet (among other countries) increased?
Two representatives of International Soto Shu, Konjin Gaelyn Godwin and Taiga Ito, spoke at our priest group. Many of us wanted to learn more about Sokoji by visiting the temple and the Soto Zen Buddhism North America office located at Sokoji. We reached out to the resident priest, Rev. Koshi Kurotaki, and Rev. Taiga Ito to arrange a visit.
Our July visit occurred in the middle of Obon, a time to remember and honor those who have died. A special altar had been constructed in the temple. Abbot David Zimmerman offered incense at the altar and presented gifts to Rev. Kurotaki, who gave us a tour of the temple. In the ancestors' hall there were photographs of the abbots/guiding priests of Sokoji, which was founded in 1934. Suzuki Roshi was the sixth resident priest. Rev. Kurotaki served green tea and spoke about the temple, which mainly supports its Japanese American members with ceremonies and celebrations throughout the year, cultural offerings, and zazen.
Before returning to City Center we went to a grocery store that had freshly prepared tempura, sushi, and other take-out foods and sat outside to enjoy lunch together.
The group is planning a field trip in August to the Buddhist Church of San Francisco, a Jodo Shinshu temple on Pine Street.