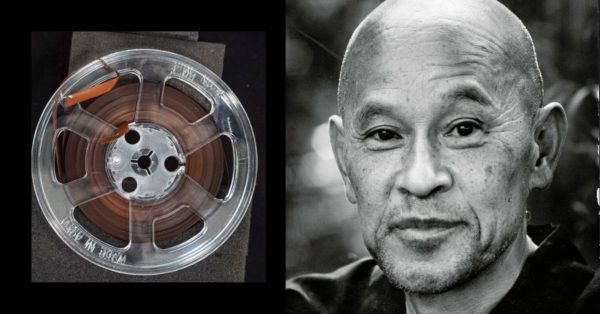 To listen to this talk, "Lay Ordination," see the Suzuki Roshi Audio Archive where it is listed on the right side.
This talk was given by Suzuki Roshi at City Center on August 23, 1970.
Description:
This tape, which is unfortunately very poorly recorded, gives us a sense of the lay ordination ceremony that took place at City Center in August 1970. During the re-mastering of the archive in the 1990s, this short recording was placed between two other recorded priest ordination ceremonies from the same year, and so was overlooked.
This was the first lay ordination that Suzuki Roshi had conducted since 1962—although he had ordained a number of his senior disciples as priests over the years—and there was one further lay ordination the following summer, before his death that December.
As he said in the first talk from the sesshin which preceded the ceremony by a few weeks, he was ordaining students who had been practicing for three years. As he says during this tape, "we have so many students here, inside and outside of Zen Center, we need more help." (7:12)
Suzuki Roshi was due to leave for Japan a couple of days after this talk, on what turned out to be his final visit to his home country. On the 25th he gave another talk, in which he outlined how he would give dharma transmission while he was there to Richard Baker, his designated successor, also as part of helping Zen Center be established as an American Zen practice place.
A part of this talk was transcribed for the next issue of the Wind Bell (p9), an issue which described many aspects of life at the new Page Street building; much of the rest of what he said is hard to make out. As he had spoken about during the sesshin talks on the precepts, the important thing is for the students to say "Hai!" or "Yes, I will!" In this way they can help others, as he needed them to, and ideally without having any ideas about helping: "Just to be with people will be enough." (13:14)
He speaks of Avalokitesvara, the bodhisattva of compassion, who appears in whatever form is needed, and gives some concrete examples for the practitioners of Zen Center, which had just moved into a neighborhood that had a significant African-American population: "When people are like snow, we should be like snow. When people become black, we should be black. And being always with them, without any idea of discrimination, and we can help others in its true sense, without giving anything—any special teaching or material. This is actually bodhisattva way." (09:30)
To view all of the talks that have currently been released and to learn more about this project, see the Suzuki Roshi Audio Archive.
Please donate to the preservation of San Francisco Zen Center's audio archives.
Non-monetary support is also welcome. This collection of talks is a living, evolving archive that depends on input from people like you to unlock the wisdom it contains. Several of the newly discovered talks are in need of transcription, and nearly all can benefit from listeners adding descriptions and keyword tags to improve searchability. To get started, visit the Suzuki Roshi Audio Archive page for many ways to engage.