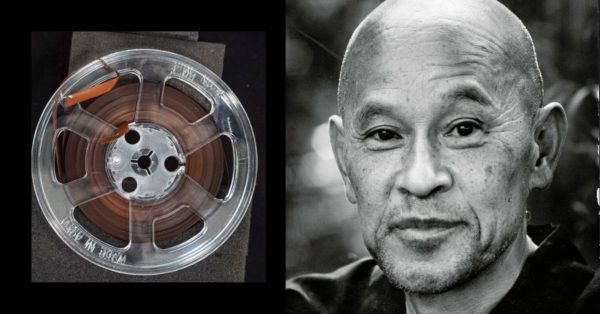 To listen to this talk, "To Polish a Tile Is Our Practice Actually," see the Suzuki Roshi Audio Archive where it is listed on the right side.
This talk was given by Suzuki Roshi at Tassajara on August 23, 1967.
Description:
Further to the date confusion and missing talks discussed last time, it seems that even Suzuki Roshi lost track of time during the first seven-day sesshin at Tassajara: "We have one more day [two people whisper: 'two more'] two more days [laughter]. Oh I see [laughter]. Two more days? Just one more. I missed very much [laughter]." (35:38) He also refers twice during this talk to a morning talk which we do not appear to have any record of, as well as a talk given by Maezumi Roshi the night before which is not in the archives.
In this talk, appropriately for the middle stages of a sesshin, he is encouraging his students, and weaving together the themes he has already been addressing in his talks: the value and importance of their practice, the Genjo Koan, and Prajna Paramita which underpins everything. He grounds his main theme in the well-known story of Baso and Nangaku—adding Dogen's twist that while we cannot expect to gain enlightenment through sitting, any more than we can polish a tile to make a mirror, nonetheless we continue to sit, and nonetheless enlightenment occurs: "Because of this kind of practice, enlightenment is yours, whether you are aware of it or not. Here, the meaning of practice is very deep, so our zazen is not just some way to attain enlightenment." (3:22)
Several words and phrases recur: "through and through," indicating a whole-hearted and committed approach, necessary to withstand the rigors of intensive sitting, without adding the distance of mental discourse about what one is doing, and "actualize," again, promoting the reality of one's experience rather than simply an intellectual understanding of it.
In the moment, he acknowledges, this practice may seem painful, and that "it may be much better to take LSD. [laughter] That is much easier [laughs], and maybe less expensive [long laughter]. It is true. Here we— Maezumi Sensei, Chino Sensei, and many students spending seven days in hot weather. This is ridiculous [long laughter]." (22:34)
Suzuki Roshi wryly notes that LSD does not allow the user to experience an embodied practice, as zazen does. He also grounds this embodied practice in the understanding that this is the present manifestation of what the Buddha himself practiced: "Actually, whatever you experience, whatever experience you have, almost all the experiences you have, will be already told by some of our patriarchs. They are waiting for you to experience something always [laughter]." (16:42)
Additionally, he is encouraging his students that they should not only be looking backward to see their place in this lineage of transmission, but to appreciate that they are laying the groundwork for generations to come as well. Here we see Suzuki Roshi emphasizing both the value of this historic sesshin as it happened, and consciously positioning it in a wider context for the growth of Zen in the West.
To view all of the talks that have currently been released and to learn more about this project, see the Suzuki Roshi Audio Archive.
Please donate to the preservation of San Francisco Zen Center's audio archives.
Non-monetary support is also welcome. This collection of talks is a living, evolving archive that depends on input from people like you to unlock the wisdom it contains. Several of the newly discovered talks are in need of transcription, and nearly all can benefit from listeners adding descriptions and keyword tags to improve searchability. To get started, visit the Suzuki Roshi Audio Archive page for many ways to engage.