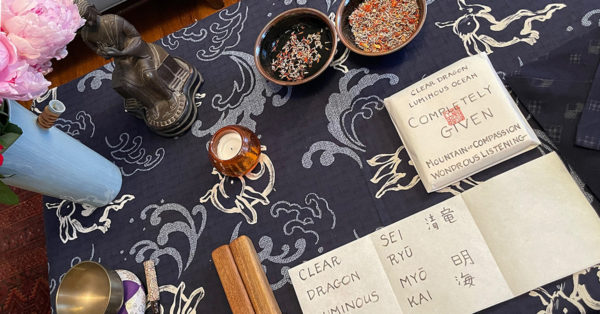 By Tova Green
My first meeting with Barbara Naiditch occurred in June 2021. She had emailed City Center to request a practice discussion and Abbot David Zimmerman suggested that she contact me to set that up. She had meditated sporadically for most of her life but had gotten more serious recently due to a serious illness.
Soon after we began meeting on Zoom for practice discussions, Barbara asked to study the precepts with me. We studied Diane Rizzetto's Waking Up to What You Do, and relating each precept to events in her life.
As Barbara's illness prevented her from going out, it was clear that she would be unable to participate in the jukai/lay initiation ceremony planned for January 22, 2022 at City Center, for which I would be one of the preceptors.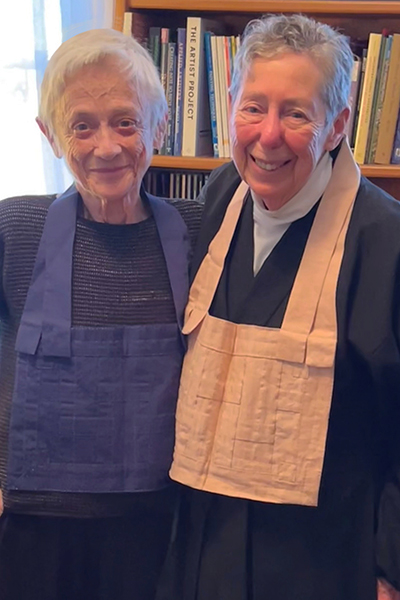 We decided to create a home ceremony. I showed Barbara the basic stitch for her rakusu. She sewed as many stitches as she had energy for and I completed it. I asked Barbara's husband Steve and their daughter Zoe to help me choose her Dharma name.
During the ceremony, Barbara and I faced each other across a low table covered with a cloth, with flowers, a candle, and small bowls of flower petals and water (used instead of incense). Steve, Zoe, and Barbara's acupuncturist Ilana were there as sangha. Barbara received her new name, SeiRyu MyoKai / Clear Dragon, Luminous Ocean, and her rakusu. We chanted the robe chant together and she recited the precepts after me. Her voice was strong.