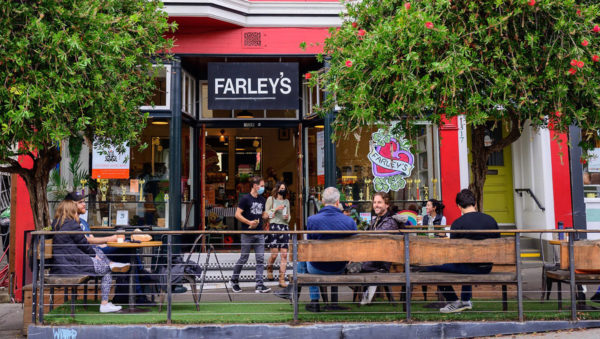 San Francisco Zen Center is delighted to announce that we are the "non-profit of the quarter" for Farley's Coffee Give Back Program!
This means that starting now through the month of April 2022, for every bag of Zen Blend or Give Back Blend coffee or for every Zen Box purchased, Farley's will make a $5 donation to SFZC.
Coffee can be ordered through the Farley's website (links below) or, if you live in the Bay Area, visit their locations on Potrero Hill in SF or Grand Avenue in Oakland.
Zen Blend: This blend was developed specifically for SFZC and is served at all three temples.
Give Back Blend: This blend is equally delicious and is curated to include beans sourced from coffee cooperatives that share the values of fair trade, sustainability, and community development.
Zen Box: This box includes a bag of Zen Blend, SFZC incense and honey, and a copy of Shunryu Suzuki's Zen Mind, Beginner's Mind.
Farley's connection to the San Francisco Zen Center is through its original owner, Roger Hillyard. After 22 years of running Farley's (and living upstairs), he decided it was time to retire (and move!). Roger passed on the business to his son and set out on his next adventure as a Zen practitioner and resident at SFZC's City Center.
Farley's started roasting a special, fair trade and organic blend that is available at all three centers — City Center, Green Gulch Farm, and Tassajara — for residents and guests. Through this connection to SFZC, Farley's has cultivated an appreciation for Zen teachings on leading an intentional way of life and its aspiration to relieve the suffering of all beings.
Thank you for supporting San Francisco Zen Center!