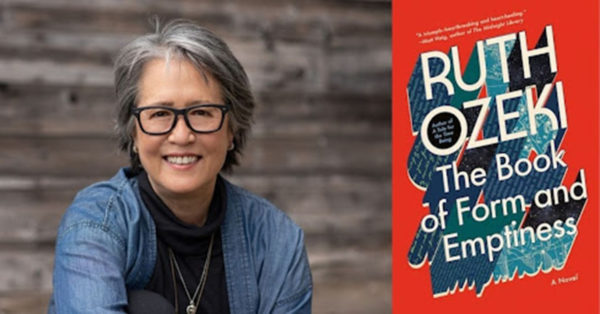 By Tova Green
Ruth Ozeki is a novelist, filmmaker, and Zen Priest. She was ordained by Zoketsu Norman Fischer, founder and guiding teacher of the Everyday Zen Foundation, who gave her the Dharma name Kanshin Do-On / Generous Heart, Voice of the Way. She teaches creative writing at Smith College.
The Book of Form and Emptiness, Ruth Ozeki's most recent novel, is about listening, not only to the characters in the book, but also to the voices of objects, including the book itself. Benny Oh, a young boy, says, "Shhh … Listen! … Things speak all the time, but if your ears aren't attuned, you have to learn to listen."
Readers are drawn into a world permeated with Zen teachings, although someone with no knowledge of Zen Buddhism could identify with the characters and their experiences.
The book begins with the sudden death of Benny Oh's father, Kenji Oh, a tremendous loss for the thirteen-year-old boy and his mother, Annabelle. Both struggle in the aftermath of Kenji's death, alone and together. Benny begins to hear the voice of his father at the crematorium, and then hears other voices coming from made objects–such as chopsticks or flannel shirts–as well as pebbles and trees. Annabelle's response to the loss of her husband Kenji is different – she is unable to throw away anything that was his.
In a recent dharma talk, Ruth Ozeki said she drew from her own experience with death in crafting this novel. After her father died she heard his voice for over a year. She became curious about what it means to hear voices. "As a novelist," she said, "I experience voices coming to me – the voice of a character or of the book itself."
She spoke about clearing her parents' house after they died. They were both born in 1914, during the Depression, and never threw things out. She found rubber bands, tub foil, plastic wrap. Her Japanese mother had kept polished stones her father had collected while interned in a "relocation" camp during WW II. Her father was an anthropologist who studied the Oneida people and had special objects that had been given to him. Ozecki didn't know what many of the objects were and pondered, "If only they could talk to me."
Ozeki explores the whole spectrum of what it means to hear voices, from voices that are valued, such as the writer's muse, to voices that can be judgmental and vicious, and to voices that may be diagnosed as a mental disorder. Benny Oh's voices distract him at school and lead to his being sent to a school psychotherapist, and then to hospitalization. Ozeki shows the inadequacies of mental health services for children as well as social services for parents like Annabelle as the shadow side of the story unfolds.
This book and her prior novel, A Tale for the Time Being, explore Zen koans or questions. What is the nature of time? Do insentient beings express the dharma? She sees these novels as contemporary expressions of early commentaries on koans, or teaching stories. In The Book of Form and Emptiness she explores the teaching of Eihei Dogen (1200-1253) that insentient beings express the dharma and the non-separation between insentient beings (pebbles, trees, mountains) and the Buddha; all things have Buddha nature.
Annabelle's difficulty with throwing things away reminded Ozeki of Marie Kondo's The Life-Changing Magic of Tidying Up: The Japanese Art of Decluttering and Organizing. In her book, Kondo teaches an attitude of respect toward objects. In Ozeki's The Book of Form and Emptiness, the character Aikon (a Japanese nun) has written a book called Tidy Magic, which has become popular in Japan and the U.S. The book falls into Annabelle's hands, eventually helping her address challenges in her life.
Ozeki also examines the importance of dialogue. The phrase "only a buddha and a buddha" implies that there is no enlightenment alone. We are interconnected with other humans and with objects. Benny and his book interact. "We think of books as singular, unchanging objects. I think of books as a collaboration. The book is sent out into the world. Each time a reader brings her own experience to the book and makes their own version of it. As long as books are being read, they are alive." She is grateful that The Book of Form and Emptiness can interact with many readers.
I won't describe how the book ends. I encourage you to read it. It will continue to speak with you long after you've read the last page.
Copies of The Book of Form and Emptiness can be ordered through the SFZC Online Store.