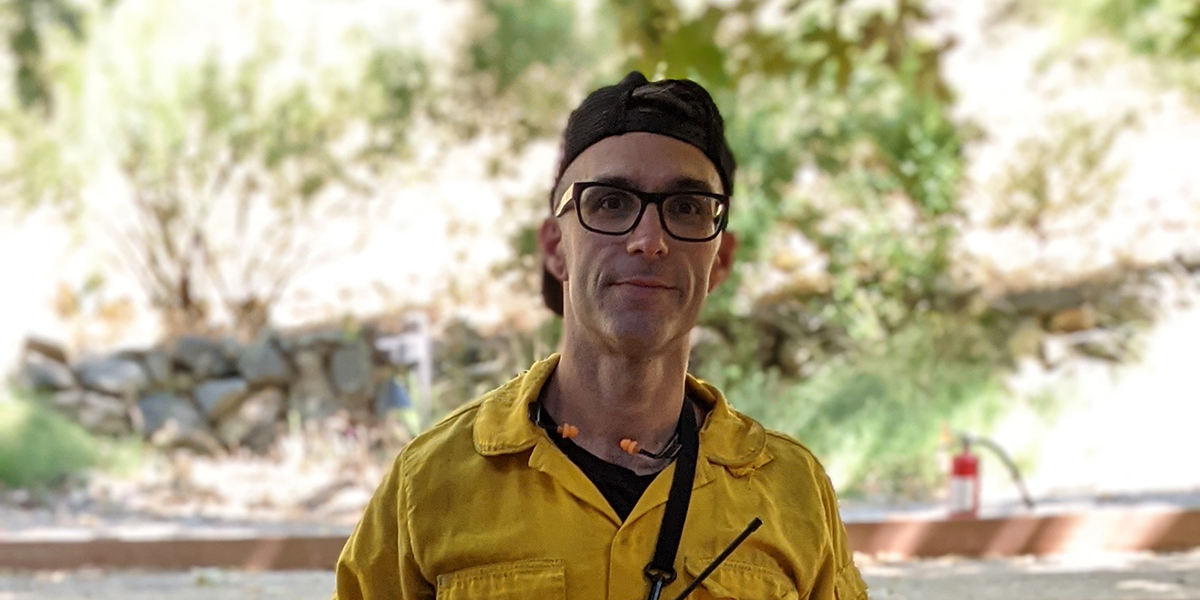 Kogen Keith, a priest who lives at Green Gulch Farm with his wife Lauren Dito-Keith and their five-year-old daughter Calliope, is the first person to fill the newly created position of Director of Emergency Planning. This position will help San Francisco Zen Center's three temples prepare for emergencies including fires, earthquakes, and medical emergencies. This new position is multifaceted. While it includes short-term and long-term planning, it also requires 24/7 monitoring and response.
Kogen's preparation includes the years at Tassajara when he was plant manager, and his training in fire preparedness at Tassajara and Green Gulch Farm. He spent 70 days on the Soberanes Fire at Tassajara in 2016 and 40 days on the Dolan Fire in 2020.
On Thursday, June 18, 2021, at 10 pm, Kogen received an alert that there was a fire, the Willow Fire, near Tassajara. He alerted the fire crew and left Green Gulch Farm at 2 am Friday morning. He spent the next 13 days preparing Tassajara and running Dharma Rain until the fire reached 87% containment.
In addition to planning, Kogen maintains working relationships with fire agencies and consultants who provide safety and tactical advice for Tassajara's unique situation. He is also tasked with keeping the Tassajara fire crew staffed and trained to professional standards so that they can care for Tassajara in the most prudent way. In response to the demands of the job, Kogen regularly engages in training in preparedness, tactics, and leadership skills outside of SF Zen Center.
Kogen's fire training includes working for the Bureau of Land Management (BLM) part-time. He is on-call for the Sierra Front Regulars fire crew out of Carson City, Nevada. In addition to his training from the BLM, he is also a fellow with the Fire Forward program where he is training to lead prescribed burns. Kogen is also a chaplaincy student at the Institute of Buddhist Studies in Berkeley, a Chaplain Candidate Second Lieutenant in the Army National Guard and is continuing his priest training with Eijun Linda Cutts at Green Gulch Farm. All of these skill sets serve him in his new role and prepare him to meet a challenging and dynamic work environment.
There is much for Kogen to learn in his new role. Since it covers emergency preparedness for all three centers, he is beginning to also spend time at City Center to learn about the safety issues that are important in an urban environment.
Kogen's Zen practice helps him with the bigger picture, that "we're all skin-bags, piles of dirt, just causes and conditions taking shape as phenomenal expressions," as well as the smaller picture, that life is precious and safety is primary, and the first step toward safety starts with a deep breath. "When I'm feeling overwhelmed, I find that breathing is most rewarding. It's cliché, but true. Sometimes one breath in a stressful moment feels like an entire 90-day practice period." Kogen has studied Dogen's Instructions for the Cook, which includes the statement, "The mouth of a monk is like an oven." Whatever job he is doing, his aim is to embody it completely with a breath of surrender. He finds no separation between this new role and his first position at Green Gulch Farm when he was assisting in the guest program.
One of the things Kogen enjoys most is putting his daughter to sleep at the end of the day and greeting her when she wakes up in the morning. He and his wife Lauren enjoy rock climbing and spending time in San Rafael with Lauren's parents where they cook a lot of Italian food and Calliope spends time with her grandparents.
Kogen's Dharma name, given to him by Eijun Linda Cutts when he was ordained in 2017, is Kogen Anshin – Radiant Presence, Body of Peace.
SF Zen Center residents can feel safer knowing that Kogen and his team are watching out for all of them.