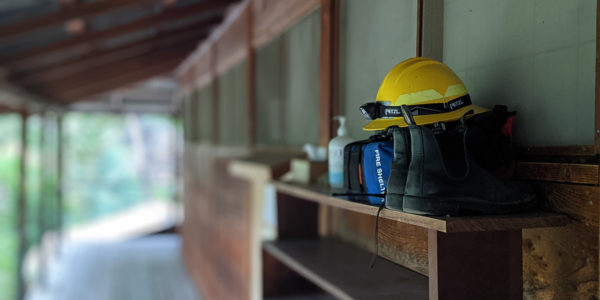 By Myles Cowherd
On June 18, at 2 am, less than a month after my fire preparedness training, I received a phone call from Kogen Dito-Keith, our Tassajara Fire Crew head. He said, "Good morning, Myles. Sorry to call so early. We've got a fire 1.66 miles away from Tassajara, and I don't have many details on it, so I'm on my way, and I was hoping you could come with me." I packed my things and left after lunch to help protect Tassajara from the Willow Fire.
The week that followed was an exhilarating experience for me and gave me a new appreciation for both the precariousness of maintaining a mountain refuge in a time of climate change and for Zen practice as a tool to meet this challenge. These are my "behind the scenes" observations (including a link to my photos) as a resident staff person, priest, and volunteer fire crew member.
The seven-person volunteer fire crew, including a resident from all three SFZC temples and a smokejumper from Alaska, divided the temple into five divisions from west to east. Alfa, Bravo, Charlie, Delta, Echo, with Dharma Rain as our lifeline.
Each division had a pump submerged in the creek, pressuring the above- and below-ground Dharma Rain system. We incrementally improved the system daily until it covered 100% of the structures, pumps, and hoses. As I fiddled with the Dharma Rain system, getting thoroughly wet in the process, I couldn't help but feel gratitude for all the community members who made it a reality.
In the evening, we took turns of one-hour shifts between midnight and 6 am, making our way to the solar panels to see if the fire had crested the mountain. The cool evening air biting the skin and cooling the sweat from the trek up the hill while our hearts raced and the stars sparkled in the jet black night sky.
And it wouldn't be Tassajara without zazen and service every morning. This was another context for team bonding and to contemplate our chance opportunity to steward this sacred place.
As the possibility of the fire arriving at Tassajara diminished, we cleaned out the walk-in refrigerator that had broken the day before the fire started, composted the spoiled food, and prepared meals for each other.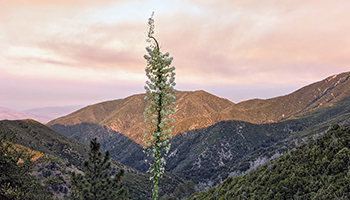 As we drove into Tassajara on June 18, I had stopped to take a picture of a Spanish Bayonet (aka Our Lord's Candle, Yucca) blooming, and I thought, a flower blooming and a fire. The photo is part of the album I put together.
As climate change impacts the future of places like Tassajara, there are still blooming flowers amid the more frequent wildfires. SFZC is grateful for the support that allows us to meet the challenges posed and remains determined to steward Tassajara so that it is available to all who seek and are grateful for its beauty, stillness, and serenity.