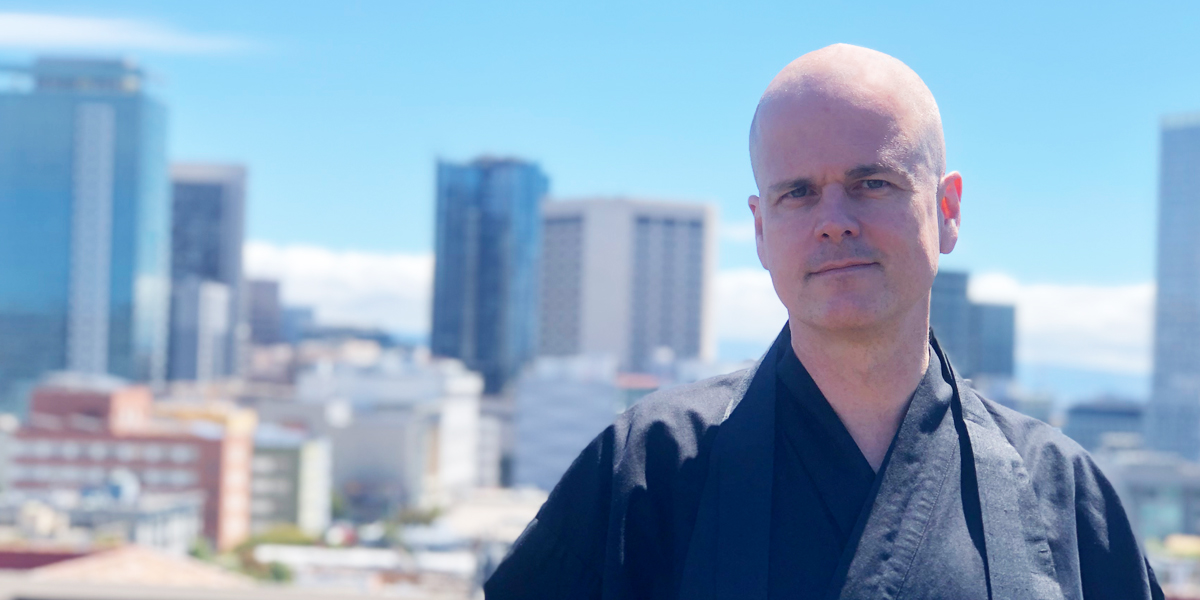 by Tova Green
Sozan Miglioli became San Francisco Zen Center's President in January 2021, after serving as Vice President for several years. In this interview he spoke of his vision and priorities for his new role.
Sozan sees that "the world is going through a deep spiritual crisis." When he was invited by the SFZC Board of Directors to take the President position he felt a deep sense of responsibility and also an opportunity to keep deepening his bodhisattva vows. He has asked, regarding SF Zen Center, "What does it mean to be one of the leading Buddhist organizations in the Western hemisphere in the 21st century, and what does it mean in this time, which is marked by a lot of suffering and division?"
Sozan's focus as President is to keep making SFZC relevant and accessible for the wider community while ensuring that it is internally sustainable, inclusive, and diverse. By accessible, he means that what we offer must be relevant, although this might look different for different people.
"It's important to find the connection between tradition and skillful means, between the teachings of Suzuki Roshi and understanding what touches people's lives today. Both communication and deep listening are essential, opening the channel both ways—communicating what we have to offer in a skillful way and listening. Being accessible means that what we offer is available, approachable, people can relate to it. Zoom offerings bring a new light to the meaning of accessible, making it possible for people to participate in zazen, classes, and workshops who live at a distance from the Bay Area, or who are unable to come to the centers for health or other reasons.
"As we move out of Covid, we are asking how we can keep nourishing all the new connections we've made in this time of the pandemic. During this time many people have started asking basic questions, such as 'What is really important?' This pandemic has changed people's personal lives. It is important both for individuals and for the organization to stay close to this question."
Sozan comes to the position of President having led several of his own companies in Argentina, his country of origin, during times of political and economic change. This has contributed to his capacity to lead organizations in complex moments. Understanding how to navigate political, cultural, and social complexity gives him the tools for the times we are living in now. "I've led in times of crisis before," says Sozan, adding, "We're living in a great unknown, a world crisis. Though I've studied business and have some business degrees, that is not so important. The fact that I wasn't born and raised in the U.S. and am connected to other places in the world gives me a perspective which can be helpful in a more connected environment."
What brought Sozan to SFZC is his wish to practice Zen. "I'm here to practice, train, investigate what it means to be of benefit to all beings—and, my place in the organizational mandala is to be President." For him, "there is no separation between being President and being a priest."
Sozan's Dharma name, Seigan Sozan, means Sincere Vow, Ancestor Mountain. He feels the name Sozan supports his practice. This name was given to him at his priest ordination by his teacher Rinso Ed Sattizahn. "I'm deeply supported by the Dharma and by my ancestors endlessly, from time past to the unknown future. I also feel supported by everyone at SFZC, by residents, the Board, and the wider sangha."