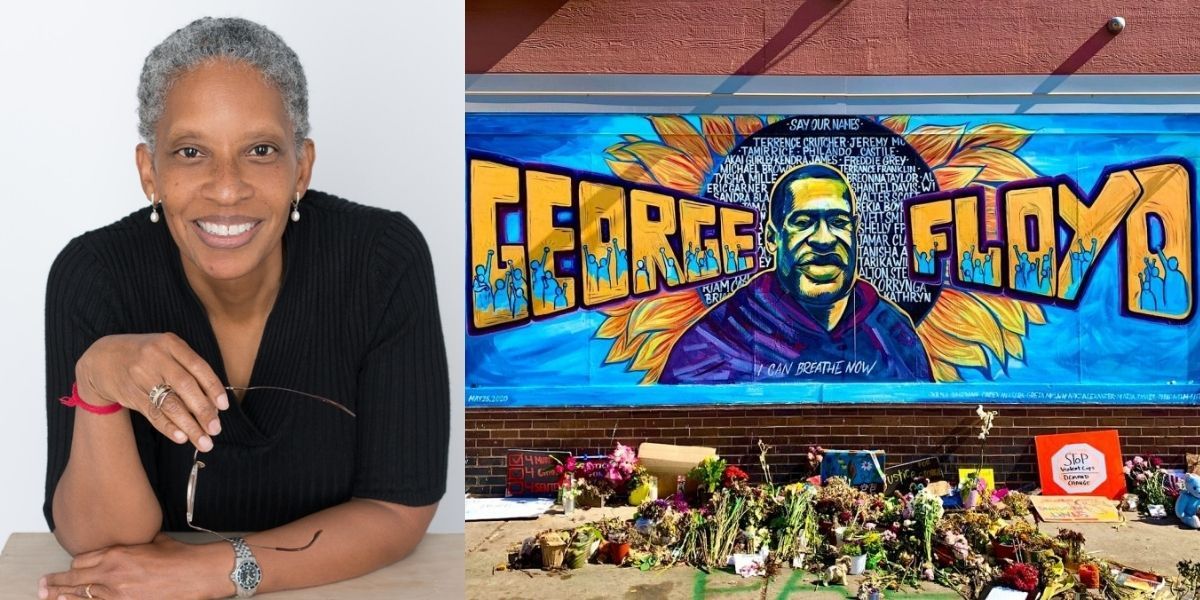 By Tova Green
Pamela Ayo Yetunde, a Community Dharma Leader, Zen practitioner, chaplain, and author, was living in St. Paul when George Floyd was tortured and murdered. She experienced the unrest in the Twin Cities and elsewhere in the weeks and months after this event and paid close attention to the George Floyd/Derrick Chauvin trial in March. She was concerned that if Chauvin was found not guilty it would have serious repercussions for the safety of communities of color. She could not have just sat on her cushion without finding a way to respond.
Ayo, along with BIPOC Zen and Insight practitioners in the Twin Cities, founded Buddhist Justice Reporter: The George Floyd Trials to address the role Buddhists could play in criminal justice reform. This project is the focus of an online SFZC program Ayo is offering on Thursday, June 10, from 4 to 6 pm PT. She will engage participants in a discussion with an aspiration to tap into the compassionate and creative energies that already exist in Buddhist communities.
The Buddhist Justice Reporter website explains the project's name:
We call this project Buddhist Justice Reporter: The George Floyd Trials not because George Floyd himself is on trial, for he now resides with the saints, but because the trials are really about whether Black people should continue to be treated by the state as they are and have been for centuries. We choose to use George Floyd's name, rather than the police officers' names, to bring attention to him and how he represents the plight of Black and Brown people in the U.S. Though we may have different opinions about who or what is actually on trial, let's pay attention to how these trials play out so we may more effectively advocate for change.
In an April 26 article in Tricycle, Ayo asked, "What is a Buddhist to do now that Chauvin has been found guilty?" He will be sentenced in June, a federal arraignment has been set for July 14 for the other three officers, and their state criminal trial has been postponed until 2022. There may also be a federal civil trial for Chauvin.
In considering the importance of paying close attention to these events, Ayo wrote, "With the new reality that a white police officer can be found guilty of murdering an unarmed Black man, how will we interpret this reality for what our lives mean and can mean? How do predominantly white sanghas make room for Black and Brown people living with an existential situation that hasn't changed just yet? By practicing deeply with racial and cultural humility. But that's not all.
"Sanghas need to come together, harness our power, and deploy the positive power of our practices in compassion, directing that power to the policing of our neighbors and fellow citizens. We can begin with just one goal, restoring the humanity of arrestees who cry out that they are in pain, so that police officers will also care for those they are arresting."
When we spoke about the Buddhist Justice Reporter and the event on June 6, Ayo said, "After the trials there are other issues we can work on. We can help people who are asking themselves, 'What can I do?' to figure out a method. Ask: What disturbs you? How can you find collaborators, create a vision statement about it? We've got to keep loving, sharing."
Buddhist Justice Reporter: George Floyd, the Bodhisattvas' Cry, and the Paramita of Persistence
With Pamela Ayo Yetunde
Online, Thursday, June 10, 4 to 6 pm PT