By Tova Green
On the corner of Page and Laguna Streets in San Francisco, diagonally across from San Francisco Zen Center, is a corner building with a series of murals that wrap around the boarded-over windows. What unites the several panels is a stream of monarch butterflies, often seen in spring at Tassajara Zen Mountain Center, one of SFZC's three temples. As I walked across the street today I saw a woman on a ladder painting the newest image — a portrait of Amanda Gorman, who recited her poem "The Hill We Climb" at President Joe Biden's inauguration less than a week ago.
I watched the painter, Nicole Hayden, carefully restore several monarch butterflies she had painted over as she created the portrait. Nicole told me she wanted to keep the monarchs intact and thought they were very compatible with the poet whose likeness she had painted, as they symbolize freedom. Nicole, a neighborhood artist, had been invited to paint the mural by Arlene Lueck, a SFZC priest who has been organizing the mural project.
Arlene told me that she had recently seen Nicole painting a mural of Breonna Taylor, the 26-year-old African-American woman who was fatally shot by police in Louisville, Kentucky last summer, on a storefront a few blocks away. Taken by the power of her painting, Arlene asked Nicole to paint an image for the mural project. Arlene was pondering whose portrait she would like to see on the Page Street panel, and was discussing this with Emily Hilldore, SFZC's CFO. Emily suggested Amanda Gorman. Both Emily and Arlene had been inspired by Gorman's reading at the inauguration.
Arlene, as a Zen Center elder, understands the importance of passing leadership on to the next generation, and listens to the voices of young people. Arlene was encouraged by hearing the mantra Gorman says to herself before she gives a talk or reads poetry in public: "I am the daughter of black writers who are descended from freedom fighters who broke their chains and changed the world. They call me."
Gorman's inaugural poem ends with these words:
"The new dawn blooms as we free it.
For there is always light,
if only we're brave enough to see it,
if only we're brave enough to be it."
Read the complete poem here.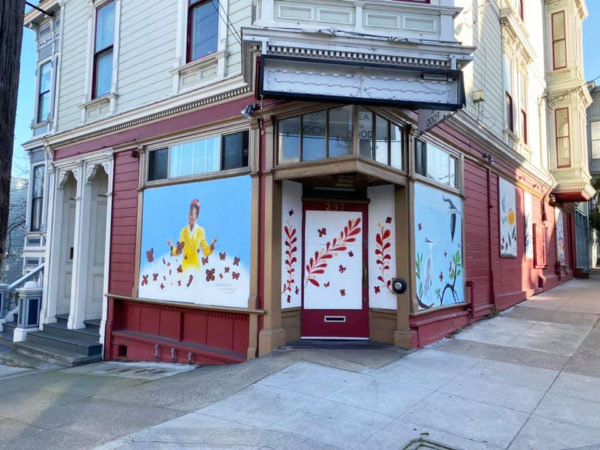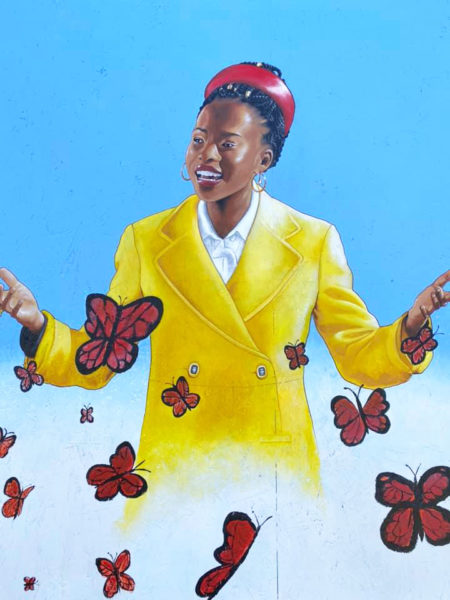 Images by Nicole Hayden