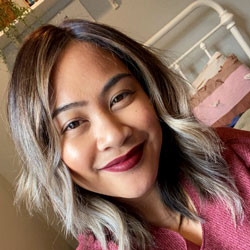 How did I first come to San Francisco Zen Center (SFZC)? It's kind of a funny story. I was going through a lot since my mother had passed away. I was suffering quite a bit. I knew my spiritual path had started whether I liked it or not.
I was going to a meditation group in my neighborhood, but I started to feel like it wasn't the right fit, especially since they were pressuring me to do a lot of work for them. One day they said if I didn't want to volunteer with their group, I could go to SFZC. They were trying to put SFZC down but it actually led me there, since I had never heard of it before.
When I looked SFZC up online, I found out about the Young Urban Zen (YUZ) group that met every Tuesday evening. So I went and found this big beautiful community. I thought, "This is what I've been looking for." Ever since then I come back all the time.
At YUZ, I'm with people who are my peers and are starting to think critically about their lives. I've made so many friends through YUZ. Going forward, I'll always seek out people who are aligned spiritually. It's transformed the way I interact with people in my everyday life, at work, and the friends I choose to surround myself with.

Over time I was gaining so much from SFZC that I got more involved as a volunteer. At YUZ on Tuesday nights I paired new people up with a Dharma buddy. A Dharma buddy is a way to make friends, hold each other accountable to the practice, and to reflect on that evening's talk and how it resonated. Now that YUZ is held over Zoom, I help out with the announcements.
…
There was a time recently over Zoom when I was listening to the YUZ speaker and I thought, "This is wisdom and knowledge that I've always had an idea about. It's so nice to have it verbalized and to have someone confirm all of these things." Not all of us are raised in environments where this type of wisdom is known and passed down. It's important to know how to cope with the suffering that comes with just being human.
Afterward I told the teacher "I feel like you're a wise dad speaking to me." The teacher was so humble and sweet about it — "Oh no, I'm just passing down the wisdom that was taught to me."
…
San Francisco Zen Center has a wealth of knowledge and people who have been through these things before, people who have had to dig deep and find an inner resilience. When it gets really hard, it's nice to be able to reach out to someone from the community. It gives me the morale and faith that if I keep going, maybe this will all make sense or be worth it. I'm like a plant that knows it's destined to be a tree but I don't know how or when or what that will look like, so a little bit of nourishment will help me get there.
October is Membership Month: Join the Membership Program.