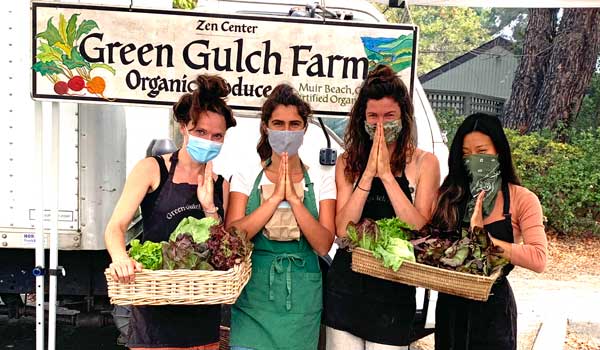 Each Friday at 9:30am, former Green Gulch Farm apprentice Vanessa Caldarelli and her team of three (Jess Nelson, Kate Sylvan, and Leia Layus) set up a stand at the Mill Valley Farmers Market. They are there on a volunteer basis so that GGF produce remains available to the public.
GGF farmers would normally run the stand, but due to Covid-19 and the need to limit exposure within the community, Vanessa and her team have volunteered to help run things this year.
Green Gulch Farm is famous for delicious bread and lettuce and those are still the best sellers. Also available are leafy greens, cabbage, broccoli, cauliflower, turnips, beets, root vegetables, potatoes, herbs, and flowers and all these are quite popular, too. Vanessa reports that the market sales are doing really well. There is a line down the block that generally forms an hour-and-a-half before the market opens. Some people wait in line simply for one head of lettuce.
Vanessa comments, "A lot of people come to the stand because they want to feel more connected. It's more than just the produce: Green Gulch Farm is a place of refuge for many people and the market gives them a taste of that. People are so grateful and express how much they're missing Green Gulch, especially coming on Sunday for the Dharma talks. It's nice to offer them this little thread of connection."
Under Covid-19 concerns and restrictions, the team sets up a display of everything on offer behind a plastic barrier. Customers indicate what they would like to purchase and the items are gathered by the team in assembly line style. "In true Zen fashion," says Vanessa, "It's a form that makes shopping functional and quick." The crew members sanitize their hands after each customer and keep their masks on at all times.
Thank you Vanessa, Jess, Kate, and Leia!
What: Green Gulch stand at the Mill Valley Farmers Market
When: Every Friday from 9:30am to 2pm 
Where: The CVS parking lot, 759 E. Blithedale Ave, Mill Valley