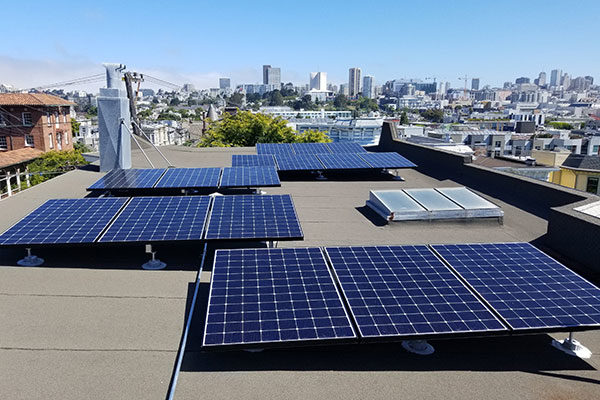 There has been an array of solar panels on the roof of Beginner's Mind Temple at 300 Page Street since 2005. These panels produce 40-50% of the electricity used in the building, based on the available square footage for the array.
Late last year, with the availability of rebates from the City of San Francisco, and with the help of Interfaith Power and Light, a nation-wide environmental non-profit that works with religious institutions, San Francisco Zen Center hired Luminalt, a local firm, to install panels on the four other buildings that Zen Center owns on Page Street. (Abbess emerita Linda Ruth Cutts is a former board member of IPL.)
IPL was instrumental in helping to locate financing for the project which will be paid off over the next ten years, with the goal of the Page Street campus producing nearly all of its own electricity. The panels will significantly reduce utility costs and protect SFZC from future rate increases. They are scheduled to be operative in August.
This new installation of solar panels is not the first instance when SFZC has taken steps towards renewable energy. Currently, Tassajara is 100% solar and Green Gulch Farm has panels on Sky Hall and Cloud Hall.
Thanks for this project go to many people, especially Darcy Wallace, Facilities Director, and to Jerry Bernstein, SFZC sangha member and IPL volunteer, both of whom generously offered their time and knowledge for this effort.