If you are inspired by Jack's experience at Green Gulch Farm, you may want to sign up for one of our many Guest Student and Apprenticeship opportunities at GGF as well as City Center and Tassajara (summer months). Stays can be as short as 5 days; longer commitments are also possible.
---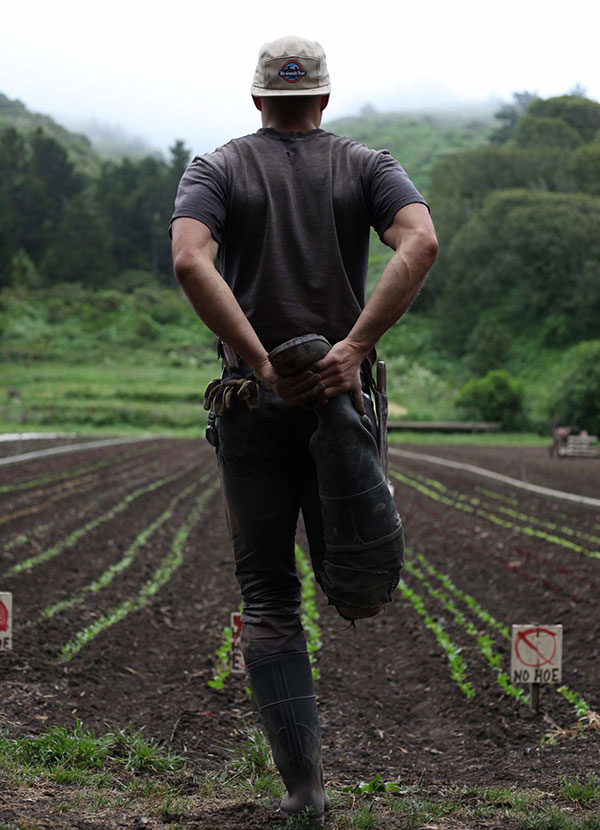 Last week, former Green Gulch Farm apprentice Jack Thomas stopped by City Center to pick up potato chits and lettuce and collard starts gifted by Green Gulch Farm to San Francisco's Alemany Farm. The hand-off was distinctive to the current circumstances: not entering the building, wearing masks and gloves, and maintaining six feet of distance. Nevertheless, the starts made it to Alemany Farm where they were planted this week and where they will be harvested and delivered free of charge to low-income residents of San Francisco.

Jack lived at Green Gulch Farm over four farming seasons, 2015 – 2019. He was an apprentice, then regular farm staff, and then Assistant Farm Manager. Jack arrived at Green Gulch with no farming experience. He had recently graduated from college and briefly worked in what he described as a soul-crushing sales job.
What he brought to Green Gulch was his own immense suffering, the realization that meditation was one of the only things that seemed to help, a desire to engage in physical work in the company of a team, and a desire to find a community and a livelihood that allowed him to be in alignment with his aspiration to contribute to the healing and well-being of the world.
Asked what he took away from his time at Green Gulch, he laughed and exclaimed, "There is so much!" Among the gifts is a growing ability and readiness to turn towards whatever is arising as opposed to ignoring, minimizing, or numbing himself from present circumstances.
He also points to an ability to take himself more lightly, to laugh at himself. Asked to elaborate, he tells this story:
"I was in the fields cutting lettuce with [Green Gulch Farm Elder] Emila Heller and cut too many of the precious Little Gem lettuces. I instinctually hid my mistake by tucking the extras in a box that was already packed. And Emila, being a hawk, of course found me out! But her only remark to me was, "Jack, you don't have to hide here." She essentially told me that I could make mistakes and still be part of the family. That was huge for me. It catalyzed the possibility of accepting my imperfections and mistakes, which opened the door to being in relationship with who I actually am. And that, in turn, gave me more agency in regard to my perceived flaws as to whether to enact them or not. And I watched as some lifelong patterns began to fall away as I could acknowledge them and relate to them."
Jack further points to having grown in the awareness that we only ever live our lives together and that relationship—as opposed to a feeling of isolation, independence, or the idea that we ever accomplish anything alone—is the whole project. And in the process, he says, 'I found family, friends and teachers that I will always stay in relationship with."
"My time at Green Gulch gave me practice. It gave me a language through which to express spiritual longing through forms and sutras. It gave me a lattice onto which I could grow and learn as a young man. And it gave me the precepts."
In November 2018, Jack received the precepts from Eijun Linda Ruth Cutts who gave him the name Myojun Yasho, which means Wonderous Pure Heart, Midnight Song.
Last year, Jack left Green Gulch with the dual aim of taking his practice outside of the refuge offered by San Francisco Zen Center and engaging more actively in social justice. He lives in San Francisco, a stone's throw from City Center. Jack continues to farm and is currently the Alemany Farm Assistant Manager and Operations Lead.
Alemany Farm is a 15-year-old non-profit urban agricultural project in Bernal Heights, a historically low income community. The mission of the farm is to grow fresh, local, organic fruits and vegetables with and for marginalized communities with the broader goal of sowing the seeds of economic, social, and food justice. To those ends, the farm gives away 100% of the produce grown on site, approximately 25,000 pounds annually.
The farm maintains an open harvest policy, meaning that the gates are always open and food is available to all for picking. In service of promoting food sovereignty, the farm offers gardening workshops at no or low cost and partners with City College to offer green jobs training.
The Alemany model has been that most of the farm work is done by volunteers. During this time of pandemic, in which the farm is not allowed to host volunteers, a skeleton farm crew does most of the work. However, because this experienced crew does not have to teach and host volunteers, production hasn't diminished.
The crew hopes to be able to deliver approximately 40 pounds of greens per week to the housing project adjacent to the farm. Additionally, Alemany has a new local food partner who is supplementing these offerings with food that a grocery store would otherwise throw away. In response to an explosive interest in home gardening due to the coronavirus, the farm is also hosting online workshops, including one with long-time Green Gulch farmer and gardener Wendy Johnson.
Thanks to Jack's relationship with Zen Center, Green Gulch Farm has contributed seeds, starts, and potato chits to Alemany. Sweet pea seeds have long since germinated and are now blooming at the property line between Alemany Farm and the adjacent Section 8 housing development. Kentucky Wonder and Scarlet Runner Bean seeds are in the ground. The lettuce and collards will be ready for harvest in under two months. Potatoes are in the ground and will be ready at the summer's end.
Reflecting on the major threads that form the continuity of farming at Green Gulch and Alemany, Jack points not only to similarities in the operation of the farms and an openness to volunteers and school groups, but to an ethic of being in respectful relationship to the earth, regarding it as a mother who provides what we need to survive and whom we need to reciprocate with in some measure.
"We talk consciously about our relationship to the earth. And we talk openly about how we are in relationship with each other as regards the division of farm labor," says Jack. Both of these things are reminiscent of farming and practicing at Green Gulch Farm.
---
Please note that several of these photos were taken pre-pandemic and therefore show people in close contact without protection. We feel it is important to continue to share these photos when they are appropriate to the story being told.