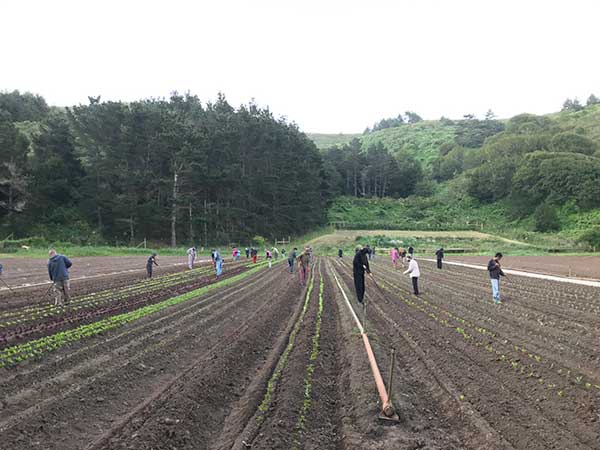 The Green Gulch 2020 farm season is now well under way. Every Wednesday morning, the community walks down to the fields after zazen for communal hoeing. Last week, various work crews joined the farmers to get the third planting of the new season into the ground. Volunteers included Green Gulch Farm Abiding Abbess Fu Schroeder, who showed up wearing boots and the now ubiquitous face mask.
The farm crew is small this year, due to restrictions resulting from the coronavirus outbreak. Fortunately, two new farm apprentices arrived just before the order to shelter in place. They joined four other crew members, Farm Manager Sara Tashker and Farm Elder Emila Heller. Residents from Tassajara are also arriving to help.
The farm is supplying lettuce, arugula, and herbs to the Green Gulch Farm and City Center kitchens. Orders of baby lettuce, herbs, and rhubarb were sold to two Mill Valley restaurants, Watershed and Piatti, which are providing a pick-up and delivery service during the shelter in place. The last of the winter squash went to Jason McKinney, formerly with French Laundry, who cooked and delivered meals to essential workers at Marin General Hospital. 
Collards, chards, kales, spinach and root vegetables should be ready for harvest in approximately one month. These will go to SFZC kitchens, to supermarkets in Mill Valley and Sausalito, and to the Marin Food Bank. Green Gulch Farm is not planning to sell at the Ferry Plaza Farmers Market this year, but will continue to host a stand at the Mill Valley Farmers Market, provided the SFZC Health and Safety Committee does not deem this exposure too great a risk to the community.
Though GGF is committed to providing fresh vegetables to the Muir Beach community, it's not clear whether the Muir Beach CSA will be happening, due to short staffing.
The small number of apprentices is not the only change for the farm crew this year. Crew check-ins – an important feature of work practice in which apprentices share their personal and practice lives and work on being in right relationship with each other – are now being held on Zoom rather than around the wooden farm table. Morning zazen is no longer in the beautiful old barn-turned-zendo but also happening via Zoom, as are Dharma talks and classes.
In this time when most of our communications and interactions are moving online, practice offers a rich array of new challenges and working with the soil becomes an even greater refuge.
Photos taken by Green Gulch Farm Manager Sarah Tashker.