By Dawu Camille Whitney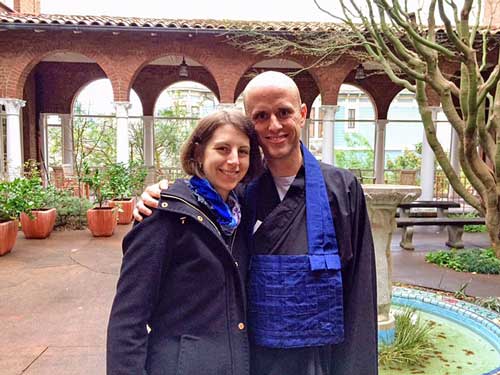 Numerous members of San Francisco Zen Center's wider sangha have written with well-wishes and to inquire what daily life is like in the midst of this pandemic. Here's my story of what it's been like to live at SFZC's City Center during this time.
The first major impact was on Saturday, March 7. I went to morning zazen and service as usual. During the work circle following service, City Center Director Michael McCord announced that the temple would be closing to the public due to advice from the SF Department of Health and concern for the many SFZC residents who are at risk of the virus.
There was a palpable sadness in the room at the thought of the doors being closed to the wider sangha and a sinking sensation in my heart. Before the Dharma talk that day, fellow residents Nancy Petrin and Myles Cowherd stood outside the temple, greeting anyone who showed up, explaining why we had closed and encouraging people to watch on livestream at home. The building felt strangely empty and quiet in contrast to the usually bustling Saturday scene – before that became the "new abnormal."
The next big shift was on Monday, March 16, when San Francisco announced the shelter in place. I was in my office at 395 Page Street when my supervisor, Development Director Santiago Requejo, bid me farewell for who knows how long and went home to Alameda. (It wasn't too sentimental since we knew we'd be seeing each other on Zoom on a constant basis). Vice President Diego Miglioli came by in the early afternoon to say that our office building would be closing and that we would work from our own rooms. Myles helped me carry my office chair and monitor across the street to my room so I could set up an office space.
Since then, almost every aspect of residential life at SFZC has changed to a new form, and continues to change. Someone still rings the wake-up bell each day, though twenty minutes later than it used to be. We turn on our computers in order to sit zazen and do walking meditation in our rooms, connected to each other via Zoom. Then we put on our home-sewn face masks and go down the stairs for soji (temple cleaning).
After that, students wearing masks and gloves serve breakfast to the rest of us. We sit six feet away from each other in the dining room (or eat in our rooms) and maintain silence in order to reduce any possible airborne contagions. Twice a week, we can ask a designated shopper to pick up essential items at Safeway, Whole Foods or CVS. That way, everyone living in the main building can avoid going shopping and thus reduce the amount of risk for the rest of the community.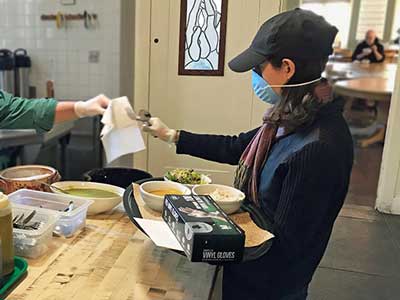 If someone has any symptoms at all, such as a sore throat, they are asked to stay in their room and call their doctor to discuss symptoms. After that, they're to contact Michael McCord, the City Center Director, who then sends a thermometer to their room so they can take their temperature. So far, happily, no one has shown any Covid-19 symptoms that would cause them to be placed in a special quarantine area. I am part of a team that volunteers to bring people meals in their rooms until they are symptom-free and ready to rejoin the community.
My husband Tim and I try to keep things fresh. We take lots of walks, including a circuit on the roof of the main building after lunch every day. We have also joined with friends to read plays together on Zoom—starting with Sartre's No Exit and Beckett's Waiting for Godot. It's the first time he and I have done theater together—and more than we've done in our lives up to this point. It's a ton of fun and is making us wonder why we waited so long.
Still, some days I wish I could join a "Buddhists against change" group, as Marc Lesser likes to joke in his dharma talks. Those are the days when the loss of our former way of life and the anxieties of the present weigh heavily, and I just wish I could hug my friends and chat with them face-to-face, maskless.
Sooner or later, though, I come back to an appreciation for living here during these challenging times. We are still sitting zazen and hearing inspiring Dharma talks, connecting with, and hopefully helping to sustain the practice of hundreds of people around the world on Zoom. One of the sweetest moments each day is after zazen when people wave to each other on Zoom and say "have a good day!" We are still meeting with practice leaders regularly, via Zoom, as well as our assigned buddy and a weekly small group. I've been grateful to feel connected and supported by these offerings, and for how we're practicing together here at City Center.
About the author:
I was lucky enough to have a high school teacher who gave me basic meditation instruction and a copy of the Cheri Huber book Nothing Happens Next. Since then, Buddhist practice has helped me find more ease, peacefulness, and clarity as well as greater compassion for myself and others when the peacefulness goes out the window. I received jukai in December 2013 from Shido Nyogen Roshi at the Hazy Moon Zen Center in Los Angeles. Before returning to City Center in January, I was at Tassajara for the last few years. You may know my husband Tim Sandoe, a long-time SFZC resident. We got married at City Center in September 2018 so it has been sweet returning to this community together.