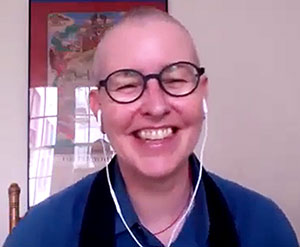 Starting on April 28, Onryu Mary Stares, City Center's Tanto or Head of Practice, will be leading the Spring Online Practice Period called A Bridge of 59 Stones. This 6-week session will explore lojong, a collection of 59 short, pithy slogans used to train the mind. The lojong teachings originated in the Tibetian tradition but have been adopted by many Zen practitioners as a tool to refine understanding and awaken bodhichitta.
We met with Mary over Zoom to find out a little more about this teaching and how it can be helpful under today's circumstances.
What is meant by "training the mind"?
The idea of training is specifically built into lojong. Lo means mind and jong means training. Norman Fisher's book, which we will be using as a text for the practice period, is called Training in Compassion, so he interprets it that way. 
Athlete's train for years in order to become experts in their sport; yogi's train for years so they can perfect their poses. But training is not something that comes easily to human beings. What we really want is to be a child prodigy, to sit in front of a piano and immediately play Beethoven without any training. And for some people that's true but for most of us, that isn't how our lives are. So we have to train.
Our minds are very complicated and tricky. The idea of using a tool to train our minds to work in certain ways is something that practitioners of Buddhism have thought about for centuries. How do I make my mind do what I want it to do? The lojong slogans are designed to help us do that. They're designed to help us point our mind in a certain direction.
How does this apply to everyday life? To our current circumstances?
I've been training with the lojong slogans for many years. I've repeated them and memorized them and gone through them over and over again. So when I'm in a situation, in a grocery store for instance, and there's a long line in front of me, slogan number 35 comes up which is"Don't try to be the fastest. " What is the implication of that? What's the implication of not always being in a hurry?
The point is that we learn these slogans and in different circumstances, they will pop up automatically. So now when I'm frustrated with somebody who's not wearing a face mask, slogan 26 pops up which is "Don't ponder others." This points me back into my own experience. Instead of the energy going out, I'm looking at what's happening in here (points to heart) so that I can then open to my experience and also, hopefully, be open to the experience of others.
So the intent of these slogans is to open ourselves up to our lives and to look at our actions is a gentle but persistent way. When we do this, we avoid sending ourselves bad messages and we invite the possibility of a positive experience of our own mind as well as the minds of others.
This doesn't happen overnight. The story of  Atiśa, the person who collected the lojong slogans and wrote them down, is that he studied with a teacher full time for 12 years. As practitioners, we know that it takes more than 10-15 minutes of exposure to a practice to have it work.
This has been my training for over 20 years and this is something I come back to over and over again. To help soften, and to help open to my life and the lives of others.
How is lojong helpful to Zen practitioners?
I think the Zen instruction to drop body and mind is terrifically difficult. Lojong offers some support for Zen practitioners, a launching pad for what to do with our minds when we're off the cushion. It's a practical way to access the teachings that give people a leg up.
I'm grateful that Norman Fischer brought the teachings out of the closet with his book Training in Compassion. Some people in the Zen world might get caught up because it's from a different tradition but as Buddhism enters into the western culture, this idea of separating the traditions becomes a little artificial. It's important that we look towards what makes the teachings accessible.
What do you hope to create for this Online Practice Period?
I think of a practice period as a structure that allows people to settle into or intensify their practice. So if someone is brand new, it offers the possibility of understanding some of the structures of Zen, which will intensify their practice. And if someone has been practicing for years, the specific study of the lojong teachings will allow people to intensify their practice. So whatever level people are entering, there is the intention to intensify.
There will be dharma talks, small group meetings, and a weekly class. My idea is to go over these materials so people can continue on with this study without the structure of the practice period. They will have the tools to self-study after this. Hopefully they will be interested enough in the concepts, the slogans, the practices, that they will continue to explore further.
What's great about this practice period is that everyone will be doing the same thing, everyone will be participating in it through the same medium. I think that's going to be really cool, actually.  As a teacher, this means that I am teaching with one focus, instead of having to switch between the residential experience, the commuter experience, and the online experience.
Final thoughts?

I think the lojong slogans are an amazing gift. Buddhism is hard for some people because it doesn't seem very practical. It can be very heady and there's no apparent first step, second step. I'm a very practical person and lojong gives me something I can do: there are steps I can take, there's a shape that my mind can grab onto. This is not an intellectual practice. This is a body/mind connection practice. It's been a lifeline for me and continues to be so.
A Bridge of 59 Stones
A 6-Week Online Practice Period with Onryu Mary Stares
April 28 – June 6
Fee: $179 general; $161 current members; $143 limited income
For more information and to register