Thursday, August 30, 7:30 – 9 pm
City Center Dining Room, 300 Page Street, SF 94102
Ultimately, this is what Buddhism boils down to: learning to relate to yourself and others in a good way, a sane and wise way.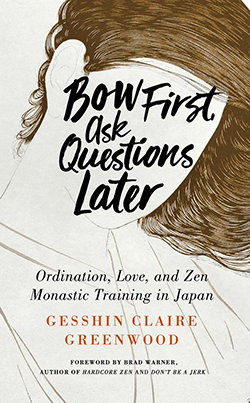 It's a way to live life in a good way, in whatever situation you find yourself. That's what I learned, after years of boredom and pain and cold and grief and just the right amount of guidance. I learned how long it takes for things to unfold and develop. I learned how not to give up. —from Bow First, Ask Questions Later
"Gesshin Greenwood is the real deal. That's what makes this book so valuable. It's rare that someone from the West does any of this stuff, rarer still when they write about it, and yet even more rare that their writing is as good as Gesshin's is. This is a truly unique document of a truly unique lived experience." (From the foreword by Brad Warner, author of Hardcore Zen and Don't Be A Jerk)
"A delightful personal account of cultures clashing in the midst of authentic Zen training. Trained in Japan and with some of the most important teachers of the day, Gesshin Greenwood breathes a fresh breath into an ancient way. This is a book for the beginning and for those of us well into the way. I highly recommend it." (James Ishmael Ford, author of Introduction to Zen Koans)
"Bow First is a witty, wise, engaging story about a young woman's experience of Zen practice in Japan. What could possibly go wrong when an attractive 20-something California girl meets the mundane and the ecstatic in both the zendo and the Kyoto night scene? We soon find out, as the author freely shares her personal struggles with sex, love, money, power and women's rights—all in the context of her Zen practice." (Grace Schireson, author of Zen Women)
"Only a fierce and brilliant woman could have produced this deliciously written account. It's honest, genuinely helpful, and earnest without sentimentality. Punchy and eloquent, Gesshin Greenwood sets a new standard for cool." (Bonnie Myotai Treace, author of Empty Branches)
"When the reader is ready, the right book comes along; Bow First, Ask Questions Later is that book. With rigor, honesty, hilarity and joy, Gesshin shows us how to grapple with the great matter of life and death—as well as with lesser matters, like capitalism, sexism, religious dogma, sex, love, fashion and Kyoto nightclubs. The result is an inspiring book that I couldn't put down, even when I'd finished reading it." (Ruth Ozeki, author of A Tale for the Time Being)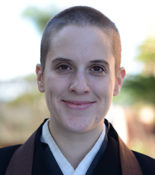 Gesshin has been practicing Vipassana and Zen for over 12 years. An ordained Zen priest, she spent five years in Japan practicing, studying, and teaching, including three years at Aichi Nisodo, a Soto Zen convent led by Aoyama Roshi. She received dharma transmission from Seido Suzuki Roshi in 2015 and holds a master's in East Asian studies from the University of Southern California. With James Ford Roshi, she leads retreats at Blue Cliff Zen Sangha in Orange County.