Dharma Talk and Book Signing — Being-Time: A Practitioner's Guide to Dogen's Shobogenzo Uji
Saturday, July 7, 10 am – noon
City Center, 300 Page Street, SF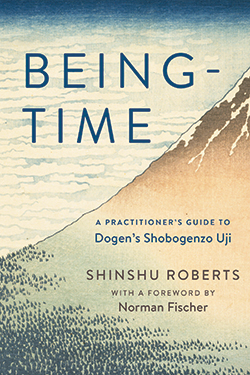 Shinshu will offer the Saturday morning Dharma talk at 10:15 am in the City Center Buddha Hall, followed by Q&A and a book signing in the dining room.
From the opening pages of Being-Time:
In "Uji", Dogen offers guidance for awakening. He instructs: see the Buddha's golden light in every hour of our day, cultivate doubt about your view of time and being, investigate how it is that particular being-time coexists with all being-time, and know that practice-realization is right now. … "Uji", is a series of spiraling circles coming back upon themselves.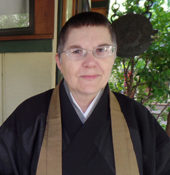 Reverend Shinshu Roberts, a priest and transmitted teacher in the Suzuki Roshi lineage of Soto Zen, has been practicing for over 30 years. She holds the appointment of International Teacher by the Japanese Soto Zen School of Buddhism. She is the co-founder and teacher at Ocean Gate Zen Center in Capitola, CA.
Prepublication reviews for Being-Time:
"This book is one of the excellent fruits of American Zen. I deeply appreciate Shinshu's work." —Shohaku Okumura, author of Realizing Genjokoan
"A remarkable study of a remarkable text." —Carl W. Bielefeldt, Professor Emeritus, Stanford University
"Beautifully written and thoughtful. By integrating many of Dōgen's works in this study, Shinshu somehow allows Dōgen himself to explicate the text. This is truly a companion to reading all of Dōgen—not just 'Uji.'" —Pat Enkyo O'Hara, author of Most Intimate: A Zen Approach to Life's Challenges