Sunday, May 6, 5 – 7 pm
Berkeley Buddhist Monastery, 2304 McKinley Avenue
This is a rare opportunity to hear many concerned and deeply informed people speak to the suffering in this Buddhist country. There is no charge for this event, but donations are welcome for Rohingya Muslim relief and interfaith dialog in Myanmar.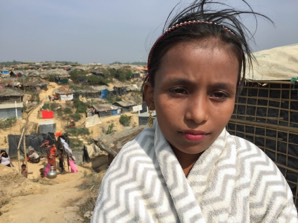 Documentary Film Screening, Panel Discussion, Slide Show about the international human rights and refugee crisis, and civil society and faith-based organizations efforts to build peace.
Films
"Sittwe," an award-winning short about two teenagers, Buddhist and Rohingya, affected by conflict and "Amae, Thamee, Ama (Mother, Daughter, Sister)," work-in-progress about women affected by state-sponsored sexual violence in Burma who seek justice.
Panelists
Emcee Chris Fortin, Buddhist priest recently returned from Burma
Hozan Alan Senauke, Buddhist Humanitarian Project founder recently returned from an interfaith mission to Rohingya refugee camps in Bangladesh
Kenneth Wong, Burmese—American author, translator, and Burmese language instructor at UC Berkeley
Jeanne Hallacy, Filmmaker and human rights advocate
Miu Kumakura, Human Rights Clinic, UC Berkeley School of Law, will present their project on Social Media and Violence against the Rohingya.
Slide Show
Pamela Blotner, Artists Beyond Boundaries, will present a slideshow of the exhibition "Speaking Out: 9 Myanmar artists."
In partnership with Smile Education and Development Foundation, Burma Task Force.
Co-sponsors Everyday Zen, San Francisco Zen Center, Buddhist Humanitarian Project, and Berkeley Zen Center.
Light refreshments will be served. Donations welcome.