"Vast intentions for universal awakening, social justice leadership, honest work, excellent teachers and program offerings and loving community practice.
'What motivates Qayyum to be a member since 2006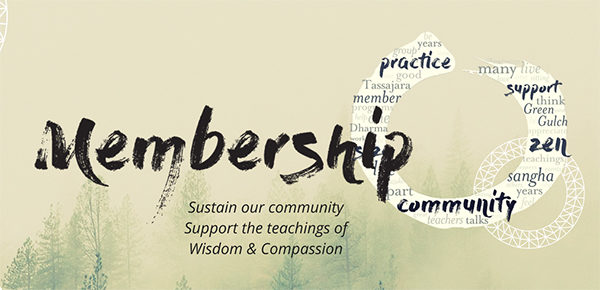 Members of San Francisco Zen Center make a monthly donation that provides the crucial support that allows us to share the dharma with thousands of people locally at our temples and globally with our online programming. In addition to supporting our temples, being a member provides a monthly reminder for many to keep the dharma active in one's own practice. Becoming a member allows practitioners to engage in the interdependence of shared giving: it is a flow of warm-hearted energy that brings us all together in sharing and experiencing the clarity and compassion of the Buddha's teaching. Please consider becoming a member today by signing up on our membership page.
To thank you for your generosity, members receive invitations to members-only gatherings, City Center library privileges, and 10% off of sesshins, one-day sittings, and bookstore purchases. At membership levels at and above $20/month, members also receive discounts on classes and overnight stays, as well as passes to Greens Restaurant. Visit this link to view our complete membership benefits.
Click here to become a member and to see a full list of member benefits.