by Zenshin Greg Fain, Tanto (head of practice) at Tassajara Zen Mountain Center
During practice period at Tassajara, on the day before a personal day, we celebrate the ceremony of Nenju, renewing our commitment to practice and anticipating a little extra time to go for a hike, do laundry, what have you. The kokyo or chant leader solemnly intones an invocation for us all, one of which begins:
Carefully listen everyone.
Twenty-five centuries, three years ago, the great Tathagata entered nirvana.
When this day is gone, your life also decreases.
Like a fish in a puddle, what pleasure is there here?
After the events of January 27, I will forever hear those words in a very particular and personal way.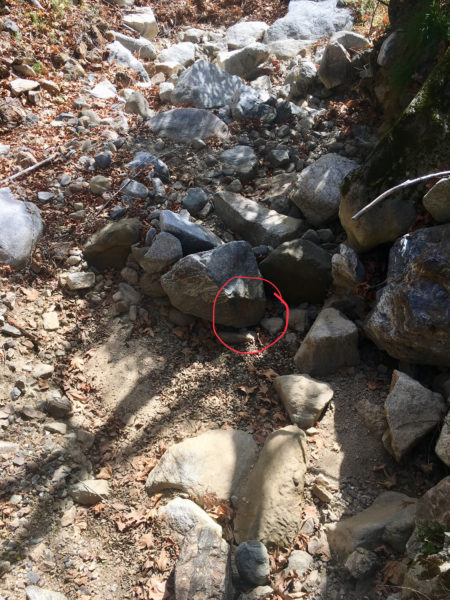 My wife, Linda Galijan, is the president of San Francisco Zen Center and lives at City Center, while I have remained at Tassajara Zen Mountain Center. Every month, I go to visit her in San Francisco and she comes to see me at Tassajara. Last month, Linda was visiting Tassajara when we went for a walk up the road after lunch.
As one is walking up from the monastery, the road more or less parallels Cabarga Creek, a tributary of Tassajara Creek. Cabarga Creek is a so-called "dotted line" creek, meaning it only flows seasonally. Right now it is spring fed, so there is some water in it upstream; but since we haven't had much rain, as you get closer to the monastery it is dry as the proverbial bone.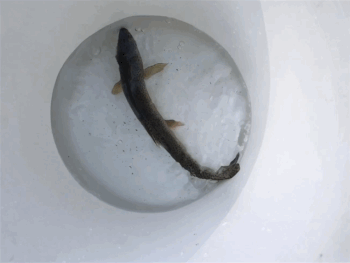 As Linda and I were crossing a culvert right by the main gate of Tassajara she heard a little splash and looked down into the dry creek bed. She said, "I think there's a fish down there!" I was incredulous — in what water? But we both took a closer look and saw a Steller's Jay bothering something down there. It was a fish! We climbed down into the creek bed to take a closer look. At the base of a boulder there was a small puddle holding not much more than a quart of water and a good-sized Steelhead!
I said,
"Can you stay here and keep the bird away while I run get a bucket?" I ran into the monastery to our laundry area and grabbed five gallon bucket and put some water in it and ran back. Then I climbed back down into the creek bed and squatted down and grasped the fish firmly in my hands, and how it did squirm as I successfully transferred it to the bucket!
Then we walked it back into the monastery (pausing a few seconds while passing some monks to watch their eyes pop as they scoped what was in the bucket) and then Linda released it into the creek.
How did it get there? Good question. Believe it or not Cabarga Creek has been part of a Steelhead run for some years! Below is a photograph from another practice period being led by Paul Haller (as the current one is) when we had had decidedly more rain, in the winter of 2011. All of those monks gathered on Conviviality Bridge are looking down at the water, amazed at the determination of the Steelhead to jump up those falls. Clearly sometimes some of them make it!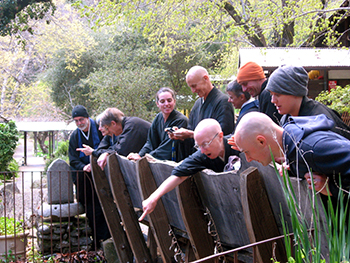 We told our teacher Sojun Mel Weitsman this story, and he wrote to us: "For that fish, your whole life history and purpose was to get you there at that time and place so that you could come to the rescue for her. From now on she will be your guardian angel."
— — — — —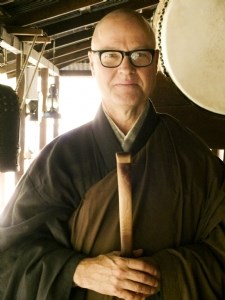 Zenshin Greg Fain was ordained by Sojun Mel Weitsman in 2002, and received dharma transmission in 2012. He currently serves as tanto (head of practice) at Tassajara Zen Mountain Center. Greg will co-lead the "Wildflowers and Birds of Tassajara" retreat with Diane Renshaw and Myo-on Gloria Lee, from May 10 – 14 (Thursday – Monday), at Tassajara Zen Mountain Center. For more information about this retreat: Wildflowers and Birds of Tassajara
"When you see forms or hear sounds, fully engaging body-and-mind, you grasp things directly." —Dogen's Genjo Koan