San Francisco Zen Center is a Community Partner at this year's Wisdom 2.0 Conference in San Francisco, Thursday, February 22 – Saturday, February 24.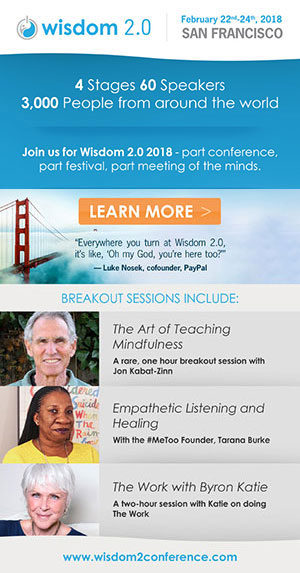 Featuring four stages and over 50 speakers, Wisdom 2.0 2018 will bring together over three thousand people from around the world for an event that is part conference, part festival, part meeting of the minds.
"When I think of Wisdom 2.0, I think of the most powerful teachers in the world, that are gathered in one place," says returning speaker Byron Katie.
This year's conference schedule includes talks from technology and business leaders, wisdom teachers, and social changemakers including Tarana Burke, founder of the #MeToo movement, and Marie Kondo, creator of the revolutionary KonMari organizing method. They join dozens of other speakers and session leaders, including many Wisdom 2.0 favorites like Jon Kabat-Zinn, Sharon Salzberg, Jack Kornfield, and Roshi Joan Halifax.
At Wisdom 2.0, fostering presence and connection among attendees is as important as the mainstage presentations and sessions; participants will have the opportunity to connect with a dedicated Tribe throughout the event, to process and communicate about their experiences. Participants can also choose between mainstage and breakout sessions; organized activities like yoga and meditation; and quiet corners for unstructured sitting, thinking, or chatting.
Interested in living with greater awareness and wisdom in this fast-paced modern world?
Tickets are on sale now at wisdom2conference.com/register.