Thursday, March 15, 7:30 -9 pm
City Center dining room
300 Page Street, SF, 94102
Accessible and elegant teachings from the late beloved Zen teacher Katherine Thanas, edited by Natalie Goldberg and Bill Anelli.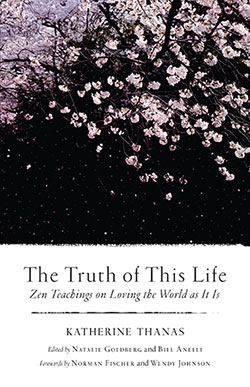 "The truth and joy of this life is that we cannot change things as they are." —Katherine Thanas
Drawn from her dharma talks, The Truth of This Life: Zen Teachings on Loving the World as It Is (January 23, 2018) presents the essential teachings of Thanas in this single posthumous publication—her only book. Fearlessly direct and endlessly curious, Thanas' understanding of Zen was inseparable from her affinity for the arts. She was an MFA student studying painting with Richard Diebenkorn, the preeminent Californian abstract painter, when she met Shunryu Suzuki, author of Zen Mind, Beginner's Mind, in the sixties. Soon thereafter she stopped painting to dedicate herself to Zen, which she did for the last forty years of her life.
In The Truth of this Life, Thanas' love of art and literature shine through in her elegant prose and her vast references, from poets William Stafford and Naomi Shihab Nye, to the Zen teachings of Dogen and Robert Aitken. Ranging on subjects from the practice of zazen to the meaning of life, Katherine urges us to "develop an insatiable appetite for inner awareness, to become proficient with this mind." This slim volume is an important contribution by a well-loved and revered teacher.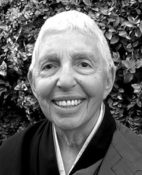 "Katherine Thanas stands firm and tall amid this generation of early American Zen pioneers." —Norman Fischer, from the foreword
Katherine Thanas (1927 – 2012) was a Soto Zen teacher who studied under Shunryu Suzuki Roshi at the San Francisco Zen Center, founded the Monterey Bay Zen Center, and served as head teacher and abbot at the Santa Cruz Zen Center. She received lay ordination from Suzuki Roshi, was ordained as a priest by Zentatsu Baker Roshi in 1975, and received shiho (dharma transmission) from Tenshin Reb Anderson in 1988.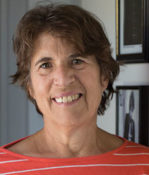 Natalie Goldberg is the author of over fourteen books, including the bestselling Writing Down the Bones, which has changed the way writing is taught. Her other books include Wild Mind, The Long Quiet Highway (both published by Bantam), and The Great Spring (Shambhala). She continues to lead workshops and retreats nationally and internationally, which she has done for over forty years. She has also painted for as long as she has written. She lives in northern New Mexico. For more information, please visit nataliegoldberg.com.