by Rev. Gendo Lucy Xiao (玄道)
Recently I gave meditation instruction at SFZC's City Center. When I asked the newcomers what brought them to meditation, one person mentioned "peace of mind," and another said "to be freed from suffering." It struck me that no matter who we are, there is a common thread that brings us to practice—our inner-most desire to be freed from suffering and to live in peace and happiness.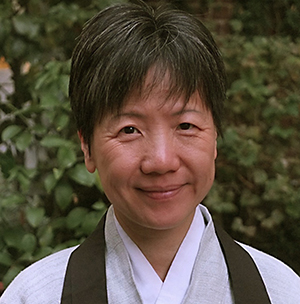 In January, San Francisco Zen Center will offer its first meditation class taught in Chinese. It's a 4-week class series which will lay the foundation for meditation and mindfulness practice through working with body, breath, and mind. I'm very delighted to be making this offering and hope that more and more people will enter the path of practice, no matter where they come from or what language they speak.
最近在旧金山禅修中心的一次禅修指导课中,我问新同学们为什么他们要学坐禅,一位同学说为了"让心得到安宁",另一位说要"从苦中解脱出来"。似乎我们每个人开始修行时都有一个共同的缘由,那就是我们每个人的内心深处都希望远离苦恼和得到安乐。
禅修中心将在2018年1月份举办首次4周的中文禅修课程,通过调理身、心、和呼吸学习禅修的基本功法,培养正念觉知。我很高兴能籍此机会和大家结缘,不论你我来自何方,说何种语言,希望有更多的人走上禅修的路。