Interview and Book Reading with Michelle Gale and Meg Levie
in the City Center dining room, 300 Page Street, SF
Friday, March 30, 7:30 – 9 pm
UPDATE: This event will be Livestreamed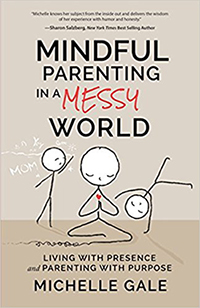 Being a parent is difficult, stressful and messy—getting kids to bed at night and off to school in the morning, breaking up sibling fights, struggling to balance work and family, constantly cleaning up stuff left behind by family members and pets. And then there are those messy feelings: unappreciated, misunderstood, guilty and inadequate, sure that other parents must be doing it better.
Mindful Parenting Educator Michelle Gale has been there. Working at Twitter and other high-tech start-ups while raising two sons, she felt all these emotions. Then she found an answer that parents often miss in the mayhem: being present in each moment. That simple shift—learning to embrace life in the moment, especially when it is messy, is at the heart of Michelle's new book, Mindful Parenting in a Messy World: Living with Presence and Parenting with Purpose.
"If you are raising children, even if you haven't meditated before, Mindful Parenting in a Messy World is for you. Michelle knows her subject from the inside out and delivers the wisdom of her experience with humor and honesty. This deeply helpful book for parents is wonderful to read." —Sharon Salzberg, New York Times bestselling author of Real Happiness and Real Love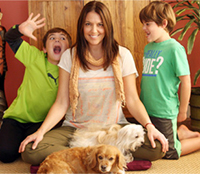 "I think it's safe to assume many of us struggle with how to balance being a lovingly engaged parent while also trying to maintain a household, honor our work and social commitments, and maintain our sanity. That may explain why I breathed easier every time I opened Mindful Parenting in a Messy World. Nourished by Michelle Gale's gentle wisdom, relatable anecdotes, and practical strategies, I felt empowered to enrich my family's experience of everyday life. Mindful Parenting in a Messy World reveals how mindfulness can ground parents moment-to-moment, even amidst chaos, and find peace together and within." —Rachel Macy Stafford, New York Times bestselling author of Hands Free Mama, Hands Free Life, and Only Love Today
There is no registration or fee required for this event. We welcome donations at the door to support San Francisco Zen Center's City Center temple.
Michelle Gale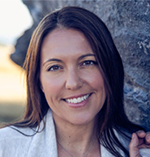 is a mindfulness educator, corporate trainer, executive coach, and podcast host. She holds a master's degree in psychology and a bachelor's degree in child development. Formerly the head of learning and leadership development at Twitter, she now works in schools, communities, and corporations, teaching parents to free themselves from stress by getting to know their inner world and embracing the messiness of life."It was clear to me that so much of my suffering as a parent came from the stress and anxiety of worrying that I might be screwing up my kids, and that I'm not a good parent," she recalls. "I was also a professional at wanting things to be different when they didn't go my way. What I've learned over the years is that it is precisely when things don't go my way that I have the most lessons to learn."
Sessei Meg Levie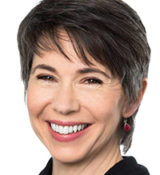 has been practicing Soto Zen for 25 years and has lived residentially at the San Francisco Zen Center since 1994. She received ordination as a Zen priest in 2003 from Tenshin Reb Anderson. Since 2008 Meg has been exploring ways to bring awareness practices to the wider world. She is a senior teacher for Search Inside Yourself, an emotional intelligence leadership program developed at Google, and has trained hundreds of teachers internationally. She holds an AB in English Literature with honors from Stanford University and an MA from the University of Texas at Austin. She lives at City Center with her husband, Jeremy, and their daughter, Elizabeth.